Metropolis
Avinyó, 15
08002 Barcelona (Spain)
Tel: +34 93 342 94 60
Fax: +34 93 342 94 66
Email:
metropolis@mail.bcn.es
Internet:
www.metropolis.org



FRONT PAGE
SiteSearch
About us
Directories



International
United Cities
Sister Cities International
Glocal
Mayors for Peace

The Americas
Canadian Municipalities
Association of Mexican cities
Conference of Black Mayors
National Urban League
National League of Cities
US Conference of Mayors
Mayors' Institute on City Design
ICLEI

Europe
Austrian Cities Association
French Association of Mayors
German Cities Association
UK LGA

Asia & Australia
Australia ALGA

Africa
Africa MDP




City Mayors reports news from towns and cities around the world. Worldwide | Elections | North America | Latin America | Europe | Asia | Africa | Events |




Mayors from The Americas, Europe. Asia, Australia and Africa are competing for the annual World Mayor Award. More




City Mayors ranks the world's largest as well as richest cities and urban areas. It also ranks the cities in individual countries, and provides a list of the capital cities of some 200 sovereign countries. More




City Mayors lists and features urban events, conferences and conventions aimed at urban decision makers and those with an interst in cities worldwide. More




City Mayors reports political events, analyses the issues and depicts the main players. More




City Mayors describes and explains the structures and workings of local government in Europe, The Americas, Asia, Australia and Africa. More




City Mayors profiles city leaders from around the world and questions them about their achievements, policies and aims. More




City Mayors deals with economic and investment issues affecting towns and cities. More




City Mayors reports on how business developments impact on cities and examines cooperation between cities and the private sector. More




City Mayors describes and explains financial issues affecting local government. More




City Mayors reports urban environmental developments and examines the challenges faced by cities worldwide. More




City Mayors reports on and discusses urban development issues in developed and developing countries. More



City Mayors reports on developments in urban society and behaviour and reviews relevant research. More




City Mayors deals with urban transport issues in developed and developing countries and features the world's greatest metro systems. More




City Mayors examines education issues and policies affecting children and adults in urban areas. More




City Mayors investigates health issues affecting urban areas with an emphasis on health in cities in developing countries. More




City Mayors examines the contributions history and culture make to urban society and environment. More




City Mayors describes the history, architecture and politics of the greatest city halls in the world. More




City Mayors invites readers to write short stories about people in cities around the world. More




City Mayors questions those who govern the world's cities and talks to men and women who contribute to urban society and environment. More




City Mayors profiles national and international organisations representing cities as well as those dealing with urban issues. More




City Mayors reports on major national and international sporting events and their impact on cities. More




City Mayors lists cities and city organisations, profiles individual mayors and provides information on hundreds of urban events. More


Metropolis seeks solutions
to issues facing world cities

27 December 2005: The metropolises are shaping the 21st century. While individually different, they share modern-day concerns about issues such as urban planning and development, the economy, health, major environmental issues, transport, infrastructure and communications. Since May 2004, Metropolis acts also as the metropolitan section of United Cities and Local Government (UCLG).

Established in 1984, the Metropolis Association is represented by 87 member cities across the world and operates as an international forum for exploring issues and concerns common to cities with populations of more than one million.

Its main objective is to increasingly improve the development process of the leading metropolitan areas, in order to enhance the well-being of all citizens. Metropolis is an organisation representing regions and metropolitan areas at the worldwide level and is recognised as a major player by large international organisations such as the UN, WHO, the World Bank and others.

The Association has joined forces with the United Towns Organisation (UTO), the International Union of Local Authorities (IULA) and the World Major Cities Summit Conference to form the G4. At its request, that group has been joined by six regional associations representing the local authorities and the cities of the world's great regions. As such, its mission is to represent members and their interests, to relay their messages, to make their ideas and points of view known.

Objectives of Metropolis
• To foster cooperation between cities in dealing with problems that face major metropolises.
• To represent the great metropolitan regions of the world, in collaboration with international organisations, other city organisations and civil society.
• To facilitate an exchange of knowledge within the network of members.

Main functions and activities
The Metropolis Association provides considerable opportunity for international cooperation. It provides a framework for the exchange of technical skills and for the development of relations between member cities. Metropolis undertakes a variety of activities. These include:
• Triennial congresses
• Standing commissions
• Technical assistance
• Training
• Meetings of the Association's Board of Directors and the Executive
• Publications, reports and newsletters

Triennial congresses
Every three years, Metropolis holds a major international congress, which sets the pace for the Association. Contributing to deepening the understanding of metropolitan issues and fostering cooperation between its members, the congresses encourage dialogue on numerous aspects of urban development, including economic, social and spatial issues. Between each congress, members of Metropolis work in groups with other member cities on thematic research projects. Conclusions from the work of the commissions are presented at the congresses in workshops that are open to the public. Congresses are attended by members of Metropolis. Members of the public with an interest in urban planning and development issues may also attend.

To date, the following Metropolis congresses have been held.
• Metropolis '84, 'What kind of development for the major metropolitan regions at the dawn of the 3rd millennium?', held in Paris, Ile-de-France.
• Metropolis '87, 'A better life for all metropolises', held in Mexico City, Mexico.
• Metropolis '90, 'Metropolises in ascendancy', held in Melbourne, Australia.
• Metropolis '93, 'The citizen and sustainable development', held in Montreal, Canada.
• Metropolis '96, 'Metropolis for the people, seeking a solidarity among world citizens', held in Tokyo, Japan.
• Metropolis '99, 'A network of cities for world citizens' held in Barcelona, Spain.
• Metropolis 2002, 'Metropolitan Governance in the New Millennium", held in Seoul, Korea.
• Metropolis 2005 held in Berlin, Germany.

Standing commissions
Every three years (between the triennial congresses), members of metropolis work with other member cities on major research projects called commissions. Commissions were established to draw together urban development projects implemented in major metropolises and to encourage the exchange of these experiences between members through active collaboration. The commissions address specific areas selected by the Association's General Assembly. All Metropolis members, recognised international organisations and outside partners may participate in the commissions' works.

The commissions usually involve the participation of, on average, 12 member cities. Member cities are selected as President (or Chair) and Vice-President (or Vice-Chair) of the commissions and assume full responsibility for the studies and the compilation of major reports.

During the 1999 - 2002 period, the commissions addressed the following topics:
• The impact of great sporting and cultural events in the development of large cities
• Urban poverty reduction strategies
• Enhancing and maintaining water quality for metropolises
• The information society and the city
• Urban Indicators

Technical Assistance Scheme
The Technical Assistance Scheme was established in 1993 to encourage the exchange of experience and specialised knowledge between Metropolis members. Technical assistance can assist members with research and provision of technical information and with seeking international finance for research programmes. In particular, it facilitates the transfer of skills at international level through the organisation of short expert missions.

A city can request technical assistance for projects related to urban planning and development. This request can be directed towards a particular city or an open request for assistance. Another city will then offer the services of a technical expert in the field to travel to the requesting city and assist with the study.

Training
Since 1997, Metropolis has provided training and seminars through the Metropolis Training Institute. Located in Montreal, Canada, the Institute organises high-level training sessions for elected officials and urban administrators.

Training programmes address all sectors of urban development. Sessions range from two to 14 days and address the specific needs of participants.

As a result, participants develop:
• Their skills by acquiring valuable theoretical and practical knowledge.
• Their know-how by learning and developing innovative ways to implement actions.
• Their expertise by gaining new insights from actions implemented by other metropolises.

Publications and communications
Metropolis produces a range of publications and information available to members and the public. This includes:
• Syntheses of works from the standing commissions.
• Regular newsletters.
• A member contacts directory.
• Syntheses of conferences and seminars including proceedings of the congresses.
• Reports from Technical Assistance Scheme projects.

In addition, Metropolis has planned a series of activities intended to promote internal communication among its members and increase its presence in international relations.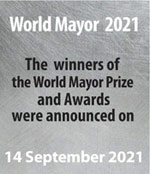 The best Mayors for Stronger | Fairer | Greener cities. Elect your candidate for the 20/21 World Mayor Prize and Honours. The Prize has been awarded since 2004