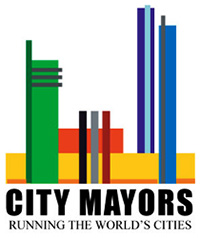 Cities are shaping today's social, cultural, economic and technological agendas. They compete, learn from each other and act together. The City Mayors Foundation was established in 2003 to promote, campaign for and facilitate good, open and strong local government. The World Mayor Project has been honouring outstanding mayors since 2004.


FRONT PAGE
About us









ON OTHER PAGES
World Mayor 2021
Mayors wanted for
Stronger | Fairer | Greener cities


Racism in American cities
US mayors caught up in nation's culture war

Opinion: Trust and race in America

Opinion: Fighting racism in America

American mayors: Moral values in politics

An American Dream for the 21st century

Public health and racism in the US

City Equity Offices to counter systematic racism in America

List of US City Equity Offices

African American Mayors

Ending racism in American cities - a conversation with Rochester's (NY) first black mayor

Police killings of Black Americans

COVID-19 hits African Americans hardest


Environment
Green buildings USA


Society
2020 US Census - Counting Americans

The guns of America

An American Dream for the 21st century

Police killings of Black Americans

Homelessness in US cities: California is facing a crisis

US cities are waking up to the harm done by trauma in childhood and adult life

Massacres in schools, churches and malls will not change America's gun culture

Corrupt US mayors pose a threat to decency in society
In the US, cities lead in fighting poverty


Development
Spatial Planning in the USA: Economic growth is of paramount importance


Statistics
Largest cities in the world (1 to 150)

Largest cities in the world (151 to 300)

A to Z to largest cities in the world
Countries with the largest cities in the world

Introduction to largest cities in the world


Government
Local government in Japan

US local government structures

Women in US local government

World Mayors and politics

Voter turnout - an international comparison

Mayors in Europe: Powers & Politics (2019)


Politics
Democrats control politics in big-city USA


Finance
Mayors explore guaranteed income targeted at low-income Americans

Salaries of British mayors
Salaries of French mayors
Salaries of German mayors
Salaries of Japanese mayors


Mayors
Capital cities and their mayors

African American Mayors
Belgian Mayors (2020)
British Mayors (2021)
Canadian Mayors (2021)
French Mayors (2020)
German mayors (2021)
Indian mayors (2021)
Italian mayors (2021)
Japanese mayors (2021)
Polish mayors (2020)
Spanish mayors (2020)
Turkish mayors (2019)
American mayors (2021)




The 2021 World Mayor Project was conducted during the various waves of the pandemic. The mayors honoured by World Mayor in 2021, includes leaders from large metropolises, medium-sized cities and small communities. Their achievements have been endorsed by their citizens.
MORE




After nationwide race riots in the 1960s, a commission concluded that racism and police brutality were the primary cause of the riots. One sentence summed up the state of US society: "America is moving toward two societies, one black, one white – separate and unequal."
MORE




Of 134 capital cities examined by City Mayors, the research found 98 national capitals with elected mayors – either directly elected (79) or chosen by the city council (19). Some 35 mayors were appointed, mostly by the respective governments. 24 cities have female mayors,
MORE



As the CoronaVirus races across the world, many towns and cities have never faced a greater challenge. It is at local level where the consequences of the pandemic are being felt strongest and have primarily to be dealt with. City Mayors reports from cities around the world
MORE




US mayors and cities lead government efforts to mitigate the harmful impacts of climate change, filling a vacuum left by a lack of natiuonal leadership. Most cities focus their efforts on city-owned buildings. Cities are reluctant to deal with private buildings for fear of legal challenges.
MORE



A plethora of city leadership models exist across Europe, depending on history and political culture. Most of Europe's 38 capital city mayors belong to leftist and centre-left parties. Of the 28 mayors of EU capital cities, 15 are members of socialist, social democrat or other left-leaning parties.
MORE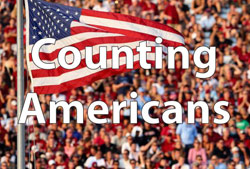 After a turbulent process, the 2020
US Census still faces challenges
Society: The 2020 US Census was marked by challenges related to Covid-19, especially the suspension for months of traditional door-to-door canvassing. The 2020 Census was also marked by the Trump Administration's efforts to politicize the Census process and the data generated. The United States federal government conducts a census of the nation's population at the beginning of every decade. The results of a census help determine the amount of federal funds disbursed to state and local governments over ten years, and thus are critical to cities. MORE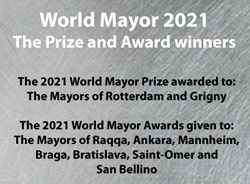 The winners of the 2021
World Mayor Prize and Awards
The 2021 World Mayor Project was launched at the start of the Covid crisis and conducted during the various waves of the pandemic. Villages, towns and cities in all parts of the world fell victim to Covid. The pandemic has made it clear that cities need to become better prepared for future man-made or natural disasters. In recognition, the 2021 World Mayor Project was dedicated to Stronger | Fairer | Greener cities. At a time, when human and civil rights in many parts of the world are questioned and, worse, violated, World Mayor 2021 has commended mayors who uphold these values. The list of mayors honoured by World Mayor in 2021, includes city leaders from large metropolises, medium-sized cities and small communities. Their conduct, goals and achievements have been endorsed by their fellow citizens. FULL RESULTS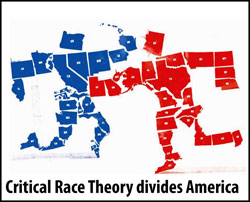 US mayors caught up
in nation's culture war
Society: US mayors are once again being forced to take sides in America's culture wars. A new front opened with the police killing of George Floyd and the intense backlash on city streets. Many American cities were already advancing equity initiatives when Floyd was killed, but his murder prompted renewed efforts by mayors to achieve racial justice by rethinking policing, and, provocatively for some, applying critical race theory to teaching, training, and discussions on equity. Critical race theory looks at power relationships in the United States through the lens of race. It explores how racism and inequity can become a part of everyday American life by examining the historical record and current laws and social practices. The goal is to promote a more equitable society through dialogue, understanding, and the implementation of more equitable and inclusive processes. While critical race theory has been taught for 40 years in the United States, it has recently come under political attack, with US mayors often drawn into the controversy. MORE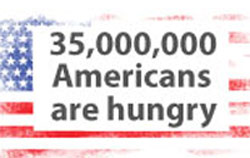 Millions of Americans
face hunger every day
Society: The United States is the richest nation in the world by many measures, yet millions of Americans confront hunger. According to the US Department of Agriculture's Household Food Insecurity in the United States report, more than 35 million people in the United States experienced hunger in 2019. Older cities in the United States also contain thousands of hectares of municipal-owned land where vacant and abandoned homes and other buildings were demolished. American cities have been creating or joining food policy councils to evaluate food system problems, such as hunger, at the local level, and facilitate solutions such as putting vacant urban lands to productive community agricultural uses. There are currently more than 300 food policy councils in the United States. MORE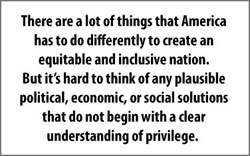 Trust and race in America
Opinion: City Mayors' Senior Fellow Tony Favro and former Mayor of Rochester, New York, Bill Johnson continue their discussion of race in the United States from their perspectives as a white American and a Black American by looking at how trust is built or destroyed. A previous discussion in City Mayors focused on the power of respect. Trust and respect allow people to feel safe and confident, live and work together without conflict, and see each other as legitimate and worthy. In the United States, trials and investigations are underway of white police officers, who killed unarmed Black men and women. Americans' trust in not only the criminal justice system but the nation's value system is being tested. READ THE FULL DISCUSSION


Local government in England
and directly elected Mayors
Local government: In London and several metropolitan areas, England's cities are led by elected Mayors, while in all but 15 of the 309 local councils in England are run by a Council Leader elected by their fellow councillors. Since 2002 a number have been led by mayors elected directly by local voters. Most of the local authority elected mayors in England have responsibility for all local services, with two district council mayors responsible for only environment, planning and housing. In London and the metro area Combined Authorities, the Mayor is responsible for transport, economic development, skills and spatial planning, as well as other fields as devolved. All England's elected mayors are elected on four-year terms by the instant run-off Supplementary Vote. There are no elected mayors in Scotland, Wales or Northern Ireland. RESEARCH following May 2021 elections.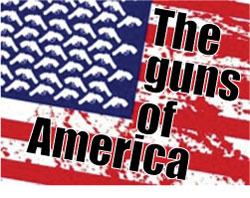 While Congress dithers, American
mayors push for stricter gun laws
Society: Guns and gun violence are seemingly normal in American culture. More than 40,000 Americans die each year from gun violence. The average number of gun deaths has risen over the past 20 years, as federal regulations on gun ownership have eased and American buy and use more guns. The pandemic, recent police shootings of unarmed African-Americans, and a flurry of mass shootings have highlighted the racial, social, and economic inequalities in America. MORE



Post-Covid, American cities
strengthen economic equity,
resilience and regionalism
Economy: Within a few months of the start of widespread Covid-related lockdowns, US mayors began establishing task forces to help guide their cities' economic recovery from the pandemic. Many of these task forces have now issued reports. While the reports' recommendations address specific local needs, there is a convergence of thought on how a post-pandemic local economy should unfold and the role of cities and mayors. Perhaps the first pandemic economic recovery task force in the US was established in Washington, DC in March 2020 by an existing group of academic, nonprofit, public, and private sector leaders, including former DC mayor Anthony Williams. Other US cities quickly followed with their own task forces. MORE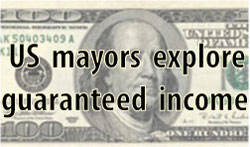 Mayors explore guaranteed income
targeted at low-income Americans
Finance: In 2019 Stockton, California, became the first US city to implement a guaranteed income program, moving an idea that was essentially theoretical in America to practice. Stockton's former Mayor Michael Tubbs, who launched the program, explained, "We need a social safety net that goes beyond conditional benefits tied to employment, works for everyone and begins to address the call for racial and economic justice through a guaranteed income." Other US cities have begun small-scale guaranteed income pilot programs or are considering such programs. These programs not only challenge current social assistance practices but also promise to rewrite the social contract in America. MORE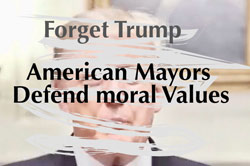 American mayors defend
moral values in politics
Society: The US presidential election on 3 November 2020, and events in the weeks that followed, reinforced the notion that America is deeply polarized along partisan lines: Republican and Democrat, conservative and liberal, red and blue. At the heart of the division, and its potential repair, is the weight afforded moral values in American politics. American city mayors have taken the lead in defending and applying core values to make systemic change. In the November 2020 US presidential election, Donald Trump, running as a Republican, received 74.2 million votes, not enough to win, but more than enough to reinforce the sense of a divided America. As president, Trump used lying, mockery, bullying, race-baiting, and indecency as governing tools. He brazenly flouted the courts and the law, actively undermined public integrity, and willfully spread mistrust and cynicism. MORE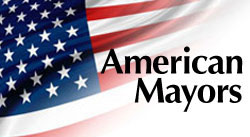 American Mayors
Local government: There are some 19,500 municipal governments in the United States. Many small towns use the council-manager system (most counties are run this way) and those that don't, have a weak mayor-council system. Almost all large US cities have strong mayor systems. Towns with populations of 5,000 or less (varies between states) are not allowed to incorporate and are overseen by the county government. Mayors, and the city council, are directly elected. The length of a term and the number of term limits are in the city charter, as is the day of election. Most mayoral elections take place on the first Tuesday after the first Monday in November to coincide with Federal elections, which take place then (as per the US Constitution), but not all municipalities do this. MORE



Indian local government
and Mayors of largest cities
Local government: Over the past couple of decades, India has seen the implementation and framing of efforts to modernise local government and has also revealed in the course of these efforts a commitment to local government that was hitherto a weak link in the Indian system. Nevertheless, it remains a system in transition that has room for further evolution to match its prevalent ground conditions. Since the Hindu nationalist Bharatiya Janata Party (BJP) under Prime Minister Narendra Modi came to power in 2014, the hitherto governing centre-left Indian National Congress party has not only lost control of government but also influence in India's largest cities. The party now controls only one (Kolkata) of the country's top 25 cities. The Chief Minister of Delhi, the National Capital Territory, belongs to the left-wing Aam Aadmi Party. A high proportion - 40 per cent - of mayors are women. INDIAN MAYORS 2021



German local government
and Mayors of largest cities
Local government: Germany is a country made up of thousands of towns and cities, all with directly elected mayors. A city (Großstadt) is officially defined as an administration unit with a population greater than 100,000. As of 2013, there are 76 cities in Germany. Only four cities, Berlin, Hamburg, München (Munich) and Köln (Cologne), are Millionenstädte - cities with a population of more than one million. Nine cities have a population of more than 500,000 people. The mayors' terms of office vary between five and nine years, depending on the state. Each municipal council is headed by an elected mayor, known as Bürgermeister - or Oberbürgermeister (lord mayor) in most larger cities. 2021 EDITION



Canadian local government
and Mayors of largest cities
Local government: In Canada cities and towns are considered creatures of provincial and territorial governments, existing by provincial and territorial legislation. Provinces and territories can create, modify, or eliminate a municipality as they see fit such as amalgamations and the creation of regional governments. They also dictate the limits of the powers of municipal governments. For the most part, serving as the Chief Executive of the city and Chair of council, Canadian mayors are given the title His Worship or Her Worship in English and Son Honneur in French for both males and females. 2021 EDITION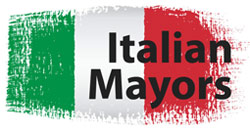 Italian local government
and Mayors of largest cities
Local government: Mayors play a central role in Italian national life and are a settled feature of the political system. The more than 8,000 communes are each headed by a mayor (sindaco) and elected council (consiglio comunale) of between 15 and 80 members. From the capital Rome to the smallest village, Italian communes coexist on an equal basis, although the mayors of Rome and Milan can be seen as national political figures in their own right. They also enjoy high levels of allegiance from their local populations, making their boundaries hard to amend or reform. In addition to civil registration and local public services, including roads, communes are able to run their own local police forces and provide local healthcare services. The Italian capital Rome is served by 19 municipal entities, the Municipi. 2021 EDITION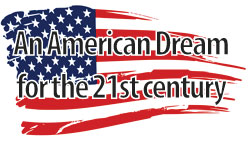 An American Dream
for the 21st century
Society: It seems that America has once again reached a point where the nation's consciousness is waking up, or owning up, to what Americans experiencing discrimination are saying. If more Americans, especially white Americans, are "woke", or alert, to economic and social inequality and injustice - and the inseparability of race from inequality - it is because the politics of awareness has changed. American cities and the mayors who lead them are at the forefront of the changing moral awareness. MORE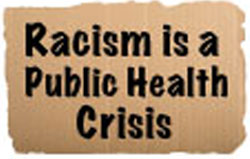 American mayors declare
racism a public health crisis
Health: Public health in the United States is a shared responsibility of the federal, state, and local governments. In recent years, the local level has been the primary driver of changing perceptions of public health. Between May and August 2020, at least 51 cities and mayors and 23 counties in the US have officially declared racism a public health crisis. These local governments include some of the largest cities in the US, such as Los Angeles (population 4,016,000) and some of the smallest, such as Bloomfield, Connecticut (population 20,000). The focus on racism is the latest effort by local governments to expand the public's understanding of the biological, environmental, and social factors that contribute to an individual's physical and mental health. MORE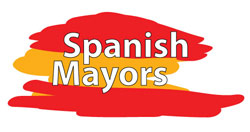 Spanish local government
and Mayors of largest cities
Local government: Spanish local government is considered the tier closest to citizens. It is most directly concerned with the daily life of people. Spain is divided into Municipalities (Municipios), with the exception of the Royal Bardenas, in Navarre, a territory declared a Biosphere Reserve by UNESCO. The governance of the municipalities belongs to the City Council. It is a collegiate organ that leads the municipal administration. The City Council is made up of Councillors, elected by popular vote. The number of councillors may vary according to the number of residents, from five to 25. In the municipal elections, all European Union citizens, regardless of nationality, may vote and stand for office, though of course they must reside in the Municipality (Municipio) concerned. The president of the City Council is the Mayor, who is elected by and from the councillors. Mayors organize, suspend and lead the sessions and debates of the plenary and of other municipal organs. 2020 EDITION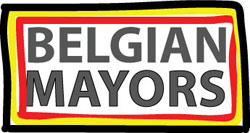 Belgian local government
and Mayors of largest cities
Local government: In addition territorial regions and linguistic communities, Belgium is divided into 10 provinces and 589 municipalities. The provincial governments are primarily administrative units and are politically weak. A governor appointed by the King presides over each province. Each governor is supported by an elected Provincial Council of 47 to 84 members (depending on the size of the province), which sits only four weeks a year. Municipal governments, on the other hand, are vigorous political entities with significant powers and a history of independence dating from medieval times. Many national politicians originate from municipal political bases; and many often double as mayor or alderman in their hometowns in addition to their federal and regional political positions. The last nationwide municipal elections were held in October 2018, the next elections are due in 2024. 2020 EDITION



City Equity Offices to counter
systematic racism in America
Society: In August 2014, a white police officer in Ferguson, Missouri shot and killed Michael Brown, an unarmed 18-year-old Black man. The killing precipitated protests in Ferguson and soul searching throughout America over racial discrimination. Within a few years of the death of Michael Brown, at least 32 cities in the United States established or strengthened a municipal equity office, including Austin, Louisville, Boston, and Oakland. These offices represented the first efforts ever undertaken by American cities to focus explicitly on systemic racism. The offices examine city governments' internal processes and/or delivery of public services with a goal of eliminating institutional inequities and the discrimination born of it ||| ANALYSIS ||| FULL LIST |||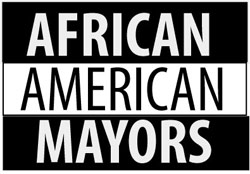 Black Americans have become
instrumental in US local government
US Mayors: It is thought that America's first elected black mayors were Pierre Caliste Landry from Donaldsonville in southern Louisiana and Stephen Swails from Kingstree, South Carolina. Both men were elected in 1868, the year the 14th amendment to the US Constitution was adopted. The amendment gave citizenship to all persons born or naturalised in the USA. It took, however, another 100 years for an African American to be elected mayor of a large US city. In 1970, Newark (NJ) and Dayton (OH) both elected Black American Democrats as mayors. In the last quarter of the 20th century and the first two decades of the 21st, African Americans increasingly became involved in all levels of local government. FULL SEPTEMBER 2020 RESEARCH



Private property rights
limit US cities' efforts
to conserve energy
Environment: US mayors and cities lead government efforts to mitigate the harmful impacts of climate change, filling a vacuum left by a lack of leadership at the federal level. However, most local governments focus their efforts on city-owned buildings and public spaces. Cities are reluctant to impose regulations on privately-owned properties for fear of legal challenges, and thus rarely take advantage of significant opportunities to reduce the cities' overall carbon footprints. For example, private residential and commercial buildings account for 40 per cent of total energy consumption and significant greenhouse gas emissions in cities, but these private properties are not included in most municipalities' environmental and energy initiatives. Exceptions are 33 US cities with mandatory energy benchmarking ordinances for privately-owned buildings. MORE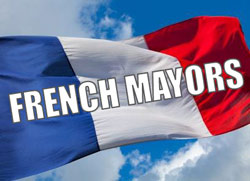 French local government
and Mayors of largest cities
Local government: Mainland France consists of 36,569 municipalities (communes) in 22 regions. In addition there are 212 communes in French overseas territories. Council elections are held every six years. The last full ones were held in March (first round) and, after a delay due to the Covid-19 pandemic, the second round took place in July 2020. In the 2020 municipal elections the Greens (EELV) made significant gains, capturing large cities like Marseille, Strasbourg, Bordeaux and Lyon, while France's ruling party, En Marche, lost its two remaining city halls. The French Socialist Party recorded three gains and three losses but held on to Paris, Lille, Rennes and Dijon The centre-right Republicans, while winning in Toulouse, Metz, Nice and Saint-Étienne, lost one city hall to the Socialists and another to the far-right. The far-right National Rally, formerly the National Front, captured the mayoralty of the southern city of Perpignan from the centre-right Republicans. 2020 EDITION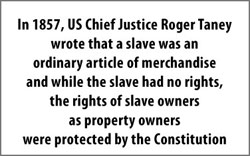 Fighting racism in America
Opinion: "We are at this place in history because of the swift, excruciating and unlawful death of George Floyd at the knee of a law enforcement officer, a person who had taken an oath to faithfully uphold the law - and a person who had been professionally trained to discharge his duties in a fair and non-discriminatory manner. In this specific instance, he desecrated his oath, and repudiated every training protocol he had been taught. Many people have taken to the streets and airwaves in protest, because they are tired that the body count continues to increase. That body count is disproportionately Black and male. The leading objective of this massive movement is the end to unconstitutional and targeted policing in this country, most visibly reflected in the actions of the officer who took George Floyd's life. And while we are at it, the rest of the inequity/disparity agenda must be remediated." An African American former Mayor and City Mayors' US-based Senior Fellow write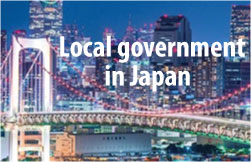 A variety of taxes funds Japan's
prefectures and municipalities
Government: In a country more recently associated with a spate of natural disasters and decades of economic slump ahead of hosting its deferred Olympic Games in 2021, the Japanese system of local government has bedded down well with the guarantee of local autonomy enshrined in its post-war constitution. As with other historic aspects of Japanese society, there remains an appreciable level of civic pride among many people and interest in community affairs remains strong. Japan's system of local government, in place for over 70 years, is relatively straightforward to understand, though it does not hit the headlines outside of Japan very often and is therefore not understood by many in the local government community internationally. MORE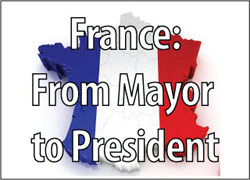 French mayors who
became Presidents
Government: It is almost obligatory for French presidents, prime ministers and cabinet ministers to start their political careers in local government. Since the formation of the Fifth Republic in October 1958, five of France's eight heads of state were mayors prior to being elected to the country's highest office. Jacque Chirac was Mayor of Paris for more than 18 years. Other former presidents such as Giscard d'Estaing, François Mitterand, Nicolas Sarcozy and François Hollande all served their political apprenticeships in local government. Only the Fifth's Republic's first two presidents, Charles de Gaulle and Georges Pompidou and the current president Emmanuel Macron did not serve as mayors. FULL LIST



Ending racism in
American cities
Society: The police killing of George Floyd in Minneapolis in May 2020 underscores how race lies at the heart of political, economic, and social concerns in the United States. The resulting protests and civic unrest in over 400 American cities constitute a stunning demand that the US honor its legal commitment to opportunity for all and finally end patterns of racial inequality. A conversation with Rochester's (NY) first black mayor. MORE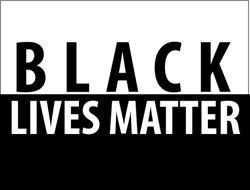 Black Americans three times
as likely to be killed by police
than white Americans
US Society: After nationwide race riots in the second half of the 1960s, the Kerner commission set up by US President Lyndon B Johnson concluded that racism and police brutality were the primary cause of the riots. One sentence in the report summed up the state of American society: "America is moving toward two societies, one black, one white – separate and unequal." The police killing of George Floyd, an unarmed black man from Minneapolis, Minnesota, on Monday, 25 May 2020, like many similar tragedies in the past ten years, shows that the words of Illinois Governor Otto Kerner are as relevant today as they were in 1968. LZ Granderson, who writes for the Los Angeles Times, added: "How can a nation born out of genocide, built on slavery and a system, which places minorities firmly behind their white counterparts…have peace."
FULL REPORT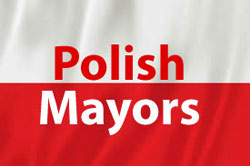 Polish local government
and mayors of largest cities
Local government: Since 1999, Poland has been divided into provinces, counties and districts. Rural districts and urban municipalities are Poland's third level of local government. Counties are usually divided into several types of districts (gminy): urban, mixed urban-rural and entirely rural. In all three types of districts, voters directly elect local councillors and mayors. Mayors in cities with more than 400,000 people are called city presidents. Rural and urban districts are tasked with the management of utilities, public open spaces, sewage and waste disposal, health care, housing and education as well as social services and culture. While the mayors (presidents) of Poland's largest and third-largest cities are women, overall, only 11 of the country's 107 municipalities have female leaders. 2020 EDITION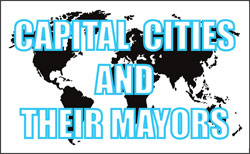 World's capital cities
and their mayors
Mayors of capital cities: Of 134 capital cities examined by City Mayors, the research found 98 national capitals with elected mayors – either directly elected (79) or chosen by the city council (19). Some 35 mayors were appointed, mostly by their respective national governments. Only 24 capital cities (17.9%) have female mayors, although in Tokyo, Paris, Rome, Madrid, Oslo and Havana women are in charge of municipal government. The longest serving mayors are Yaoundé's Emil Andze (1996), San José's Johnny Monge (1998) and Sydney's Clover Moore (2004). MORE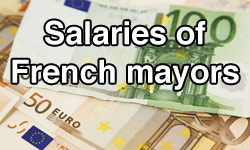 Salaries of French mayors
Mayors / Finance: No other European country has as many elected local government officials as France. In the 2014 local elections voters across France elected some 580,000 local representatives, including the mayors of Paris, Lyon and Marseille but also mayors and councillors in thousands of small towns and villages. In France, the remuneration of mayors depends on the size of their communities. Mayors of villages with less than 500 people receive a monthly payment of €646, while those of cities between 50,000 and 100,000 inhabitants are paid €4,181 per month. The largest salaries are awarded to the mayors of Paris (€8,650 / month), Marseille (€8,137 / month) and Lyon (€8,227 / month). MORE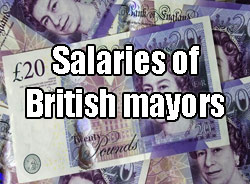 Salaries of British mayors
Mayors / Finance: In the UK local politics has long been seen as community service rather than a professional career and this is reflected in the salaries paid to elected mayors. By contrast, senior officials in city administrations are often paid more than double the mayor's salary. For instance, the Metro Mayor of the Tees Valley receives a modest £37,000 per year, yet the authority's chief executive takes home a more impressive £139,000, collecting over £100,000 more. While mayoral and councillors' remuneration is recommended by independent external advisers, councils are free to set their own political pay rates, though most reduce or freeze against the recommended level, mindful of local voters' reactions. MORE



Turkish local government
and Mayors of largest cities
Mayors: Despite the numerical, economic and cultural importance of Turkish cities, Turkey remains a highly centralised unitary state. While, as a member of the Council of Europe, Turkey is obliged to guarantee the political, administrative and financial independence of local authorities, the Council's monitoring committee has reported 'fundamental deficits in implementation'. While the findings were announced well before the March 2019 local elections, the annulment of the initial results of the mayoral election in Istanbul and the dismissal of the elected mayors of Diyarbakir and Van over allegations of links to Kurdish separatists in August 2019, strengthen the authors' assertions that the independence of local authorities in Turkey is still threatened by central government. 2019 EDITION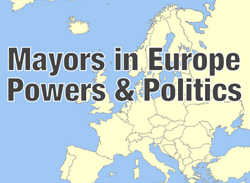 Mayors in Europe
Powers & Politics
Local government: A plethora of city leadership models exist across Europe, depending on history and political culture, though the challenges facing urban areas are mostly identical. While in France, Spain, Greece and Portugal the mayor is head of the party list on the council, in Luxembourg and the Netherlands mayors are appointed by the central government for a six-year term. In Germany, mayors are directly elected, as are all metro mayors in England. In many European countries mayors enjoy considerable powers and their responsibilities cover a wide array of day-to-day activities as well as longterm projects such as health, education, policing, environment and culture. 2019 EDITION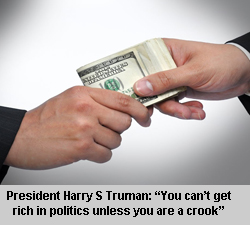 Corrupt US mayors pose a
threat to decency in society
Society: The preamble to the City Mayors' Code of Ethics states that honest local government is the foundation of any nation that strives to provide its citizens with happiness, security and prosperity. It continues to say that corruption and misconduct by local government officials threaten fundamental decency in a society. America's Federal Bureau of Investigation (FBI), which warns that public corruption poses a fundamental threat to national security and the US way of life, has over the past four decades brought to justice thousands of elected officials, who used their positions to enrich themselves. Among those convicted are leaders of some of the largest US cities, including Nashville, Detroit, New Orleans or Baltimore, but also many mayors from small-town America. FULL REPORT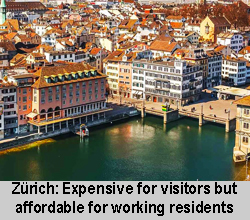 Richest and most expensive
cities in the world
• Swiss cities are expensive but residents enjoy strong purchasing power.
• The price of a cup of coffee varies from US$6.40 in Doha to $0.62 in Lagos.
• A Big Mac is most affordable in Hong Kong
Economics: Zurich, Geneva, Oslo, Copenhagen and New York City are the five most expensive cities in the world, with Tokyo, Milan, London, Chicago and Helsinki completing the top ten. The 'Prices and Earnings Survey', conducted by the Swiss financial institution UBS every three years, measures how much people earn and how much the items in their average shopping basket cost. While Zurich and Geneva may seem expensive to visitors, the cities residents, because of high earnings, enjoy some of the highest purchasing power in the word. The world's highest average earnings are enjoyed in Geneva, Zurich, Luxembourg, Los Angles and Copenhagen. For example in Zurich, the average office employee has to work only 13 minutes to be able to afford a Big Mac. A New Yorker has to toil for 15 minutes to pay for a hamburger, while in Nairobi, the city with the lowest purchasing power, the average resident has to spend more than two hours at work to be able to afford a Big Mac. MORE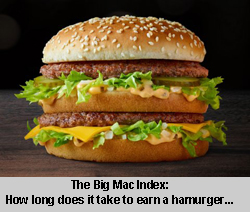 The Big Mac Guide: Time at work
it takes to afford a Big Mac
Economics: The McDonald's Big Mac hamburger is sold in some 120 countries around the world. Since it was first introduced in the US in 1967, it has become a truly global product. While in most Western countries the hamburger is an inexpensive convenient meal, for consumers in developing it is often a luxury compared to local dishes. People in cities such as Hong Kong, Tokyo, Zurich or Los Angeles need to work less than 15 minutes to be able to afford a Big Mac, while the cost of the McDonald's hamburger in cities like Istanbul, Jakarta or Mexico City is higher than the average hourly wage. In Nairobi, hungry residents need to work for more than two hours to be able to pay for a Big Mac. MORE