Klaus Wowereit, Mayor of Berlin





FRONT PAGE
SiteSearch
About us | Quiénes somos |
A propos de nous | Über uns |
Mayor Monitor
Directories
Events
Debate




World index of mayors
Mayor Monitor Index
Good or bad? You decide!

Mayor Monitor (USA & Canada)
| Atlanta | Baltimore | Brandon | Calgary | Chicago | Denver | Edmonton | Honolulu | Houston | Los Angeles | Louisville | Miami | MIssissauga | New York City | Pittsburgh | San Francisco | Seattle | Toronto | Tulsa | Washington DC | Your choice |

Mayor Monitor (Latin America)
| Bogota | Guatemala City | Mexico City | Puente Alto | Your choice |

Mayor Monitor (Europe)
| Amsterdam | Athens | Barcelona | Berlin | Cologne | Freiburg | Lille | London | Middlesbrough | Munich | Paris | Rome | Tirana | Turin | Vienna | Your choice |

Mayor Monitor (Asia, Australia & Africa)
| Amman | Brisbane | Hiroshima | Karachi | Melbourne | Yokohama | Your choice |




City Mayors reports news from towns and cities around the world. Worldwide | Elections | North America | Latin America | Europe | Asia | Africa | Events |




City Mayors profiles city leaders from around the world and questions them about their achievements, policies and aims. More




City Mayors provides a rolling assessment of mayors performance More




Mayors from The Americas, Europe. Asia, Australia and Africa are competing for the annual World Mayor Award. More




City Mayors ranks the world's largest as well as richest cities and urban areas. It also ranks the cities in individual countries, and provides a list of the capital cities of some 200 sovereign countries. More




City Mayors reports political events, analyses the issues and depicts the main players. More




City Mayors describes and explains the structures and workings of local government in Europe, The Americas, Asia, Australia and Africa. More




City Mayors deals with economic and investment issues affecting towns and cities. More




City Mayors reports on how business developments impact on cities and examines cooperation between cities and the private sector. More




City Mayors describes and explains financial issues affecting local government. More




City Mayors lists and features urban events, conferences and conventions aimed at urban decision makers and those with an interst in cities worldwide. More




City Mayors reports urban environmental developments and examines the challenges faced by cities worldwide. More




City Mayors reports on and discusses urban development issues in developed and developing countries. More



City Mayors reports on developments in urban society and behaviour and reviews relevant research. More




City Mayors deals with urban transport issues in developed and developing countries and features the world's greatest metro systems. More




City Mayors examines education issues and policies affecting children and adults in urban areas. More




City Mayors investigates health issues affecting urban areas with an emphasis on health in cities in developing countries. More




City Mayors examines the importance of urban tourism to city economies. More




City Mayors examines the contributions history and culture make to urban society and environment. More




City Mayors describes the history, architecture and politics of the greatest city halls in the world. More




City Mayors invites readers to write short stories about people in cities around the world. More




City Mayors questions those who govern the world's cities and talks to men and women who contribute to urban society and environment. More




City Mayors profiles national and international organisations representing cities as well as those dealing with urban issues. More




City Mayors reports on major national and international sporting events and their impact on cities. More




City Mayors lists cities and city organisations, profiles individual mayors and provides information on hundreds of urban events. More


How good is Mayor Klaus Wowereit?
Mayor of Berlin, Germany
City Mayors invites its readers to assess the performance in office of Klaus Wowereit, Mayor of Berlin. Please rate his overall performance by awarding him marks out of ten. '1' signifies an extremely poor performance, while '10' would rate his performance as outstanding. Please also provide details of what in your opinion are the mayor's best and worst decisions.

Over time, Mayor Monitor will provide a valuable track record of the mayor's successes and failures as well as his popularity among residents and a wider public. The results will be published on the City Mayors website and updated regularly.

Please assess Mayor Wowereit not more than once a month. In order to eliminate multiple submissions and/or fraudulent as well as organised rating by political friends and foes of the mayor, all submissions are processed manually and, if deemed questionable, cross-checked. Thank you for participating. How good is Mayor Wowereit? You decide!

RESULTS FOR KLAUS WOWEREIT:
Performance index:
Not available yet

COMMENTS:


Thumbs up:
• Marion B (Berlin): Klaus Wowereit prepared Berlins readyness for globalization not by neoliberal ideas but by openess, participartory processes, together with Harald Wolf, 2nd Mayor, by making Berlin more popular for visitors, guests, tourist and investors from all over the world
- strengthened minorities rights, focused on human rights implementation and supported a policy for integration
• Uzi L (Outside Germany): i do not know anthying specific - i have come back from a 4 night stay in berlin.the city is open-breathes freedom has realtively inexpensive and passenger friendly public tansportation - that really exists to serve the public.the city has enormous cultural events and points of interest on offer - not to mention sites of historical interest. restaurants are not greedy cash guzzlers and the food and service are good. I am definitely planning at least another visit to Berlin.
• BerlinPeter (Berlin): While I don't agree with all of Mayor Wowereit's decision, he is the best man to represent a new generation of Berliners.
• Jean C (Outside Germany): The Mayor of Berlin has given many gay people the courage to come out and be proud of their sexuality.
• Werner G (Outside Berlin): Klaus Wowereit has done a lot for the city's image and made the city again a metropolis where all are welcome. The city of Berlin is cultural at the top! I wish The Major all the best and continued success.




Thumbs down:
• Mugwanya (Outside Germany): He needs to improve Berlin's schools
• Peter (Berlin): He doesn't really seem to be there - or care - or have any real vision for the city. The great opportunity of having the immense former airport of Tempelhof (and soon Tegel) standing empty- nothing. Development of the riverfront vs preservation of its wild banks (with clkubs, galleries etc), schools, integration policies, the ongoing chaos with Deutsche Bahn owned S-Bahn transport- not much heard from Mr Wowereit. And with no political action to speak of, even his early likeability has given way to an odd mix of arrogance, boredom and provinciality.
• Anon (Berlin): Has chosen himself as Deputy for Culture/
• Ofra S (Outside Germany): I visited Bebelplatz on July 4th to see the memoriak for jews made by the Jewish - Israeli artist Micha Ulman. There was a huge tent all over the place Fashion Week .They didn't allow people to see the memorial place as it was right under the stage of the show.
Coming back I spoke to the artist who was noticed about the event but was very upset to hear that nobody could reach the memorial place . He understood that the show will be near the place and not on it.
• Anon (Berlin): Nobody is perfect!


How good is Mayor Klaus Wowereit?


How good are OTHER mayors?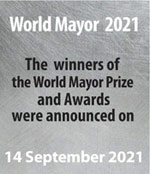 The best Mayors for Stronger | Fairer | Greener cities. Elect your candidate for the 20/21 World Mayor Prize and Honours. The Prize has been awarded since 2004