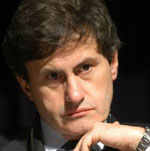 Gianni Alemanno, Mayor of Rome





FRONT PAGE
Site Search
About us | Quiénes somos |
A propos de nous | Über uns |
Mayor Monitor
Directories
Events
Debate




World index of mayors
Mayor Monitor index

Mayor Monitor (USA & Canada)
| Atlanta | Baltimore | Brandon | Calgary | Chicago | Denver | Edmonton | Honolulu | Houston | Los Angeles | Louisville | Miami | MIssissauga | New York City | Pittsburgh | San Francisco | Seattle | Toronto | Tulsa | Washington DC | Your choice |

Mayor Monitor (Latin America)
| Bogota | Guatemala City | Mexico City | Puente Alto | Your choice |

Mayor Monitor (Europe)
| Amsterdam | Athens | Barcelona | Berlin | Cologne | Freiburg | Lille | London | Middlesbrough | Munich | Paris | Rome | Tirana | Turin | Vienna | Your choice |

Mayor Monitor (Asia, Australia & Africa)
| Amman | Brisbane | Hiroshima | Karachi | Melbourne | Yokohama | Your choice |




City Mayors reports news from towns and cities around the world. Worldwide | Elections | North America | Latin America | Europe | Asia | Africa |




City Mayors ranks the world's largest, best as well as richest cities and urban areas. It also ranks the cities in individual countries, and provides a list of the capital cities of some 200 sovereign countries. More




City Mayors profiles city leaders from around the world. More




City Mayors describes the history, architecture and politics of the greatest city halls in the world. More




Mayors from The Americas, Europe. Asia, Australia and Africa compete for the World Mayor Award. More




Use Mayor Monitor to rate the performance of mayors from across the world More




In your opinion: Praise Criticise. Write




City Mayors reports political events, analyses the issues and depicts the main players. More




City Mayors describes and explains the structures and workings of local government in Europe, The Americas, Asia, Australia and Africa. More




City Mayors deals with economic and investment issues affecting towns and cities. More




City Mayors describes and explains financial issues affecting local government. More




City Mayors reports urban environmental developments and examines the challenges faced by cities worldwide. More




City Mayors reports on and discusses urban development issues in developed and developing countries. More



City Mayors reports on developments in urban society and behaviour and reviews relevant research. More




City Mayors invites readers to write about the people in their cities. More




City Mayors examines city brands and marketing. More




City Mayors lists and features urban events, conferences and conventions aimed at urban decision makers and those with an interst in cities worldwide. More




City Mayors deals with urban transport issues in developed and developing countries and features the world's greatest metro systems. More




City Mayors examines education issues and policies affecting children and adults in urban areas. More




City Mayors investigates health issues affecting urban areas with an emphasis on health in cities in developing countries. More




City Mayors reports on how business developments impact on cities and examines cooperation between cities and the private sector. More




City Mayors examines the contributions history and culture make to urban society and environment. More




City Mayors examines the importance of urban tourism to city economies. More




City Mayors questions those who govern the world's cities and talks to men and women who contribute to urban society and environment. More




City Mayors profiles national and international organisations representing cities as well as those dealing with urban issues. More




City Mayors reports on major national and international sporting events and their impact on cities. More




City Mayors lists cities and city organisations, profiles individual mayors and provides information on hundreds of urban events. More

Rating Gianni Alemanno
Mayor of Rome, Italy
City Mayors invites its readers to assess the performance in office of Gianni Alemanno, Mayor of Rome. Please rate his overall performance by awarding him marks out of ten. '1' signifies an extremely poor performance, while '10' would rate his performance as outstanding. Please also provide details of what in your opinion are the mayor's best and worst decisions.

Over time, Mayor Monitor will provide a valuable track record of the mayor's successes and failures as well as his popularity among residents and a wider public. The results will be published on the City Mayors website and updated regularly.

Please assess Mayor Alemanno not more than once a month. In order to eliminate multiple submissions and/or fraudulent as well as organised rating by political friends and foes of the mayor, all submissions are processed manually and, if deemed questionable, cross-checked. Thank you for participating. How good is Mayor Alemanno?

RESULTS FOR GIANI ALEMANNO:
Performance index:
January 2011: 5.24 points out of 10
April 2010: 5.09 points out of 10
January 2010: 4.91 points out of 10
December 2009: 4.74 points out of 10
October 2009: 4.80 points out of 10.

COMMENTS:


Thumbs up:
• Kathleen S (Outside Italy): Mayor Alemanno is a fiscal conservative who recognizes Rome's wonderful position in the European Community and is the driving force in highlighting Rome's vibrant past history and shining new expectations as a world economic leader.




Thumbs down:
• Sam W (Outside Italy): Failure to fight crime against tourists. Everyone I know who has been to Rome talks of being robbed, usually by pickpockets. My wife went last month & she too was robbed. It cost me $1,000 USD to get a new passport & another flight back home.
• EP (Italy): In terms of mass transit, Rome is really a mess. I know that new subway lines are now being built, but the current infrastructure is weak in all instances (except line A trains, which are new and with air conditioning). Also, if you arrive by car in Rome it is all but impossible to find a safe place to leave your car (unless you are lucky enough to find a garage). Forget about clear information for tourist!!! Mass transint is a black hole!
• Marco (Outside Italy): I am not saying anything bad about the mayor but I wish that he takes a better look around Rome and review what the mayors of the little towns are doing! I was on vacation this summer with numerous American friends and they stayed in Ladispoli (rm). Graffiti everywhere, trash on the streets, parks not maintained. (we saw one park that the dry grass was above my knees (I'm 1.97 cm tall) and besides the bottles, plastic containers, we saw even a battery from a car !!!! I pride myself of being an Italian of Rome and my heart bleeds when I see that it has become the garbage can of Europe! Doesn,t the mayor of Ladispoli have any pride? He should be forced to clean his town himself.
• AZ (Rome): Poor priorities. Bad immigration policies; poor relations with immigrants. •
Alexandra B (Outside Italy): I am visiting Rome from Seattle, WA, USA. I always wanted to visit Rome. But, I am very dissapointed in the city because of the decision to allow horses to carry buggies through the busy streets exposing them to danger, heat and stress in an environment not natural. This is a disgusting display of cruely clearly visible to tourists. You are wrecking the experience by allowing this to occur and exposing the animals to great risk. I urge you to please ban the horse-carriages in the city of Rome! This "tradition" is long overdue especially in one of the busiest cities in the world.


How good is Mayor Giani Alemanno?


How good are OTHER mayors?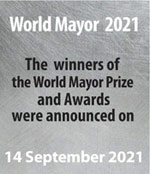 The best Mayors for Stronger | Fairer | Greener cities. Elect your candidate for the 20/21 World Mayor Prize and Honours. The Prize has been awarded since 2004