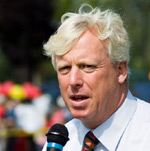 David Miller, former mayor of Toronto





FRONT PAGE
Site Search
About us | Quiénes somos |
A propos de nous | Über uns |
Mayor Monitor
Directories
Events
Debate




World index of mayors
Mayor Monitor index

Mayor Monitor (USA & Canada)
| Atlanta | Baltimore | Brandon | Calgary | Chicago | Denver | Edmonton | Honolulu | Houston | Los Angeles | Louisville | Miami | MIssissauga | New York City | Pittsburgh | San Francisco | Seattle | Toronto | Tulsa | Washington DC | Your choice |

Mayor Monitor (Latin America)
| Bogota | Guatemala City | Mexico City | Puente Alto | Your choice |

Mayor Monitor (Europe)
| Amsterdam | Athens | Barcelona | Berlin | Cologne | Freiburg | Lille | London | Middlesbrough | Munich | Paris | Rome | Tirana | Turin | Vienna | Your choice |

Mayor Monitor (Asia, Australia & Africa)
| Amman | Brisbane | Hiroshima | Karachi | Melbourne | Yokohama | Your choice |




City Mayors reports news from towns and cities around the world. Worldwide | Elections | North America | Latin America | Europe | Asia | Africa |




City Mayors ranks the world's largest, best as well as richest cities and urban areas. It also ranks the cities in individual countries, and provides a list of the capital cities of some 200 sovereign countries. More




City Mayors profiles city leaders from around the world. More




City Mayors describes the history, architecture and politics of the greatest city halls in the world. More




Mayors from The Americas, Europe. Asia, Australia and Africa compete for the World Mayor Award. More




Use Mayor Monitor to rate the performance of mayors from across the world More




In your opinion: Praise Criticise. Write




City Mayors reports political events, analyses the issues and depicts the main players. More




City Mayors describes and explains the structures and workings of local government in Europe, The Americas, Asia, Australia and Africa. More




City Mayors deals with economic and investment issues affecting towns and cities. More




City Mayors describes and explains financial issues affecting local government. More




City Mayors reports urban environmental developments and examines the challenges faced by cities worldwide. More




City Mayors reports on and discusses urban development issues in developed and developing countries. More



City Mayors reports on developments in urban society and behaviour and reviews relevant research. More




City Mayors invites readers to write about the people in their cities. More




City Mayors examines city brands and marketing. More




City Mayors lists and features urban events, conferences and conventions aimed at urban decision makers and those with an interst in cities worldwide. More




City Mayors deals with urban transport issues in developed and developing countries and features the world's greatest metro systems. More




City Mayors examines education issues and policies affecting children and adults in urban areas. More




City Mayors investigates health issues affecting urban areas with an emphasis on health in cities in developing countries. More




City Mayors reports on how business developments impact on cities and examines cooperation between cities and the private sector. More




City Mayors examines the contributions history and culture make to urban society and environment. More




City Mayors examines the importance of urban tourism to city economies. More




City Mayors questions those who govern the world's cities and talks to men and women who contribute to urban society and environment. More




City Mayors profiles national and international organisations representing cities as well as those dealing with urban issues. More




City Mayors reports on major national and international sporting events and their impact on cities. More




City Mayors lists cities and city organisations, profiles individual mayors and provides information on hundreds of urban events. More


How good is Mayor David Miller?
Former mayor of Toronto, Canada
City Mayors invites its readers to assess the performance in office of David Miller, Mayor of Toronto. Please rate his overall performance by awarding him marks out of ten. '1' signifies an extremely poor performance, while '10' would rate his performance as outstanding. Please also provide details of what in your opinion are the mayor's best and worst decisions.

Over time, Mayor Monitor will provide a valuable track record of the mayor's successes and failures as well as his popularity among residents and a wider public. The results will be published on the City Mayors website and updated regularly.

Update October 2010: Rob Ford was elected Toronto's 64th mayor in October 2010.

RESULTS FOR DAVID MILLER:
Performance index:
August 2010: 3.64 points out of 10
June 2010: 3.70 points out of 10
May 2010: 3.59 points out of 10
April 2010: 3.50 points out of 10
March 2010: 3.33 points out of 10
February 2010: 3.38 points out of 10
January 2010: 3.40 points out of 10
December 2009: 2.93 points out of 10
October 2009: 2.97 points out of 10
August 2009: 2.90 points out of 10
July 2009: 3.01 points out of 10
June 2009: 3.19 points out of 10
April 2009: 3.75 points out of 10

COMMENTS:


Thumbs up:
• Mary Anne (Toronto): When I arrived in Toronto in the early 90s, Toronto put little effort towards the arts and culture, infrastructure, and affordable housing. Under the previous mayor's watch we had huge finanical scandals (MFP). And we are a joke on the international stage. Since mayor Miller's term began we have grown into a world class city respected by the rest of the world. Tourism, arts and culture, infrastructure, public transit, housing, access and equity, crime, environmental initiatives...virtually everything has gotten better. The Toronto media however has changed into a tabloid style media concentrating only on the negative. They can turn the most positive of his work into a negative and unfortunately that is what most people base their opinions on.
• Jonathan (Toronto): Obtaining federal and provincial funding for Toronto, maintaining a low crime rate, tireless amounts of hours advocating and marketing the city, numerous green initiatives, Transit City plan.
Worst: Deciding to run after the previous Mayor, Mel Lastman. People in Toronto take for granted what kind of changes have happened since Mayor Miller has come into office. Being the mayor of the amalgamated city of Toronto is a difficult task, and receives very little glory and support for its residents.
• Justin J (Toronto): Mayor Miller has moved Toronto closer towards becoming a truly sustainable city. Most recently, the new Green Development guidelines have put Toronto in elite company in terms of what is required of developers as they build new projects, and that is just the latest of his forward-thinking moves. For those of you complaining about garbage collection taxes, TTC fare hikes, land transfer taxes, etc, you can thank Mr. Harris for those, as his slashes to municipal funding have never been restored. And to everyone complaining about the cost of new streetcars and, asininely, the improvement of the cycling infrastructure in this city, in 10 years when you can't afford to drive a car any more, you will look back and thank your lucky stars that Mayor Miller had the foresight to begin moving Toronto away from being a city of sprawl towards a city you can get around actively. He is thinking about the Toronto of tomorrow, and yes, there's going to be some growing pains. But I can guaran
tee you it won't compare to the pain of NOT adapting. Just ask Detroit.
• Marsha G K (Toronto}: I am sorry Mayor Millar is not running again. If he was in for another term i would discuss with him how to make toronto a model for the world in all sectors. I hope we don't go backwards environmentally.
• Lillie S (Canada): Mayor Miller done a great job maintating, and keeping making the city a great place to live!
• Hugh J (Canada): Mayor Miller is hard-working and fair minded. It is a thankless job as you can see from all the negative comments.
• DW (Outside Toronto): Ensuring adquequate expenditure on public transit in spite of non-cooperation from the federal Canadian government and doing so with very broad support from City Council.
• Graham S (Toronto): Transferring federal and provincial tax revenues into city coffers.
• KJB, Toronto: Climate change adaptation work
• Robert R (Toronto): Green initiatives. Waste diversion.
• Paul W, Toronto: Getting better revenue sources for Toronto and transit funding.
• Brian J, Toronto: Bringing dignity to the office - Lastman, the previous mayor, was a disaster.




Thumbs down:
• Tony T (Toronto): 1. How could he allow the double Land Transfer tax to happen. We are already paying property tax why only Toronto needs to pay Double TAX.
2. With the increasing number of condos being built for the past ten years, that means the city is collecting a lot of property tax to provide services, where is the money????
3. Why all we have a vehicle tax in Toronto?
4. Toronto TTC is totally outdated, please check out other first class cities in Asia, we are still in 1970. Please do not even use the word first class city:))) that is a real joke!
Our subway system only had very few lines, north & south bound. OMG!!! What kind of city it is!!
5. Why only mid-town buses have air conditions for the past 7 years but downtown TTC buses or streetcars have nothing. Is it discrimination against the poor living in the downtown core?? Maybe the richest living in Leaside should have air condition buses!!
6. I am leaving TO for good, I gave up on this city!!! It is too late for Toronto to catch up. It will never get the status as First Class City!!
With all of the above, I think David did a horrible job for Toronto!!!
• Kevin W (Toronto): He tells half truths (such as Toronto City workers will not have a sick day bank - which still exists). He appointed an "executive council" of the peers that agree with him to push items through without proper debate from council (including my councillor). Transit city will only increase gridlock. His green intiatives (compost being hauled with garbage, busses that idle all night, etc) are dismal failures. Overall, this guy is a complete ZERO.
• Justin J (Toronto): The garbage strike was handled extremely poorly, and Miler has really never been as good at publicizing his victories as his rivals are at publicizing his failures. He needs a better PR team.
• Shades (Toronto): If I could give a ZERO I would. He is by far the worst mayor the City of Toronto has ever had and has very few to no accomplishments to speak of.
• G D (Canada): Taxation policies; Turning limited viable automotive arteries into bicycle lanes; Pandering to special interest groups
• Marsha G K (Toronto): Giving himself a raise in mid recession which then gave ammunition to those urging a garbage strike .
• Jenny Z (Toronto): Added more taxes than anyone can think of. not interested in the wellbeing of torontoians. let's see...land transfer tax, licence plate renewal fee, city of toronto tax (no other municipality in canada has its own tax), garbage collection fee (oh yeah, we pay and don't get service for a couple of months, and then get asked for more money for the next year), need to open an "bank account" specifically for property tax...this costs another 50 dollars, and a lot more. added the bloody green bin which like all miller plans was a waste of taxpayer's money. pours money into the ttc so they can go waste it on something as useless as installing bike racks on buses. how many ppl actually use that? i've seen ONE in two years. in a word, epic failure.
• Kevin (Toronto): Caving to the union.. Focussing on inconsequential initiatives like bike lanes over infrastructure that is falling apart. Voting himself and council a raise when the city is broke.
Making Toronto a laughingstock by assuming that everytime he cried, the governments at the Provincial / Federal level would bail him out (which they got tired of doing).
Spending Toronto into more debt with no clear plan to get us out.
• Glenn C (Toronto): Excessive spending on pet projects while ignoring the majority of the population.
• Daniel (Toronto): No vision for the City of Toronto.
-Miller is only interested in more power.
-Miller sold out the taxpayers with the latest contract settlement. Misrepresented the actual cost of employee benefits by blaming it on a software error and outside consultants.
- Promised taxpayers the he would eliminate "sick day" plan during contract negotiations - to save money. Didn't deliver only phased the "sick plan" out - employees with 10 years service can still accumulate and cash out the "sick days" when they retire or leave the City -Tax and spend philosophy.
-Quality of core services have deteriorated.
-Out of touch with the taxpayers.
• EYT (Toronto): 1. Lack of good political visions as a Mayor; 2. Refuse to contract out some City's functions to protect union jobs; 3. Have two sets of standard, give himself, his Council and his union workers a raise, but impose pay freeze on the non-union workers.
• Josie E (Toronto): Worst Mayor in Canada. Pro Union pro Tax Mayor that is making Toronto an undesirable place to live and work. The 5 week strike in Toronto was a total embarrassment to many of us and discouraged many tourists from visiting Toronto. Incompetent and not fit to do the job. High taxes and Land Transfer tax passed without citizen and business support. Runs an undemocratic city that caters to unions.
• Adeel S M (Toronto): This summer's recent garbage strike was mismanaged from the get-go. All the money he supposedly saved from salaries not paid out, has already been used up to pay out over-time workers in a frantic attempt to get the city in a respectable condition again. Plus, this guy's reputation for wasting copious amounts of tax revenue generated from Toronto residents is notorious (almost scandalous)
• George S B M (Toronto): In my expierence when one gives employees a raise they would do more PERIOD...our civil servants thumb their noses at those that pay huge taxes so they can pay their taxes.
Failure, after repeated WRITTEN confirmed information that our police engage in criminal activities and are not charged.
The only pride there is in Toronto is the day the gay pride day is held and for those that participate.
Caves in to union demands by simply ignoring reality that ultimately we will have to pay even more taxes..we are going broke.
• Gilbert A (Toronto): A CITY TV poll says 62% of Toronto opposes the Municipal Land Transfer Tax - It goes ahead anyway. Miller and his council think they are untouchable. 2010 elections are coming and Miller will not be re-elected. I've never been "political", but I'm going to campaign for the other man (or woman).
• Frank T (Toronto): Worst: Where do I begin....
2007 $7 million spent in office renovations
2008 Vehicle licence tax
2008 TTC strike
2009 City workers/garbage pickup strike. Always bragging about banning guns but doing nothing all about it. Always bragging about beautifying the waterfront and doing nothing at all about it.
• JM (Toronto): Mayor Miller made a decision to purchase Street Cars knowing this would not qualify for Federal Funding under the Infrastructure Programme. With this Federal Program our Roads, Bridges, Water and Sewers could have been repaired or replaced as needed. Torontonians we lost twice with this decision 800 million dollar bill for Street Cars and No New Buses in the future and our City Infrastructure is still deteriorating.
DW (Outside Toronto): Failure to inspire citizens with a clear vision for the city.
• Geoffrey K (Toronto): Allowing his own council to vote in a raise for themselves while the city's budget is in trouble.
• Mitchell (Toronto): Gives himself and council a raise and in the same breath says Toronto is bankrupt and needs to raise taxes. NICE!
• Kenneth G (Toronto): I would like to inform Mayor Miller the broom that he boasted about on election night that swept him into office is the same broom that can sweep him right out of office. I am one person who would like to start that movement. He has got to GO and the sooner the better.
• Graham S (Toronto): Wasting taxpayers money on a failed socialist experiment and selling out Toronto to the interests of ultra left wing unionist.
• J F, Toronto: He is destroying the city on every level:
- Burning through cash reserves.
- school pools closing while he renovates his own office for 6 million dollars.
- no property strategy for waste.
- raising municipal government employees by 20% while dragging the city into the red.
- then freezing employee wages and giving politicians including himself raises.
• Magnafan, Outside Toronto: A textbook narcissistic who travels the world while his city wears down, he inherited one of the world's best infrastructures in one of the coldest major cities. He is allocating scarce monies into the wrong areas: bicycle lanes in a city with is too hot or too cold for most cycling ten months of the year. The transit system is archaic. The unions are getting crippling contracts in a major recession. He is regulating and taxing citizens and businesses out of the city. Hundreds of homeless people obstruct businesses and sidewalks, driving tourists away. His solution for unending gang shootings? Close legal shooting ranges with safety records going back decades and ban starters pistols.
Mr. Miller has stolen laurels from the city for himself to wear.
• Pete P, Toronto: The Mayor tells us there is no money, raises taxes and then spends $2.5 billion on Pan Am games; $75,000,000 for a police college when the province already has two; land transfer tax; "war" on cars while we have an inadequate transit system; refuses to take on all-powerful and all-inefficient city workers union
• Anon, Toronto: -user fees for everything.
-st clair streetcar.
-proposal to take down a major expressway serving the city.
-proposal to close a lane on a major city artery to traffic and spend over $6 million dollars on planting some trees and widening the sidewalks.
-waste taxpayers money by doing useless public works --ie. ,replacing sidewalks in chaplin estates, davisville, when the roads are full of massive, car damaging potholes.
-giving himself a raise while we are in the worst economic downturn in decades.
-retrofitting garbage trucks for large garbage bins that are useless in the core parts of the city.
-land transfer tax- a tax on a very small percentage of people
• Eva, Toronto: Autocratic decisions by inner circle of city council; overspending; unfair taxation; expensive green initiatives yet to prove viable; settlement over island airport bridge, rabid support of unions, antagonisation of drivers; catering to special interest groups such as cyclists.
• KJB, Toronto: Wage hikes for city employees at a time of destitution for other citizens, infrastructure crumbling, appears weak in the face of unions, ttc fare hikes, reduced ttc service
• Brian J, Toronto: Fighting the Island airport.
• Tony P, Toronto: The mayor does not know how to run the city. Land transfer tax is an unfair cash-grab that only makes homeowners contribute to the system and not everyone; He proved useless in union negotiations; the attempted gun-ban is pointless and just a media play to make it look like he knows what he is doing; It NOT a democracy at all; and he is absolutely HORRIBLE when it comes to fiscal matters. This is not HIS city, it is all of ours. And the fact that he did not return to the city IMMEDIATELY after the huge propane explosion is unforgivable!!!
• Nevio T (Toronto): 1. Lack of violence control.
2. Continual submissions to Unions.
3. Taking disposable income away from citizens to be passed along to city official, employees and unions.
4. Depressing the housing market with excessive land transfer taxes
5. Continual tax increases with quality-lacking services.
6. Bizarre gun-control ideas.
7. Passing on salary increases to city employees at a rate of 3% at a time when inflation is below 1% and the rest of the city is experiencing wage freezes and unemployment.
• RM (Toronto): Implemented too many taxes - automoibile tax - increased property tax - pet tax
Trying to implement a ban on handguns - This policy has only increased the price of an illegal gun. Miller blames the guns rather than the persons using the guns. Licensed persons should be allowed to have a handgun and belong to gun clubs.
He claims the city is safe and does nothing to improve the overall safety in this city.
City hall is one of the most wasteful organizations in the country - he has done little to nothing to correct this.
Toronto has become a dirty city.
He is irresponsible, does not attract business to this city.
• Scott S (Toronto): The mayor hides from the issues that matter.
• Robert R (Toronto): Having weak coucillors supporting him.
• Bozena F (Toronto): Everything from the LRT to garbage pick. Please get another job!!!
• Sandi (Toronto): Please stop talking about a gun-free city. It will never happen. A person who wants an illegal gun will always be able to find one. The issue is about poverty. We need Dalton McGuinty's poverty reduction plan. Neither of you are fooling anyone with your call for a gun-free city. Start doing the right thing. Start supporting families who raise children, especially those with single-parent families. Three acts of violence on Wed. 16 Sep 08. Now the lock-down of Victoria Park Collegiate. This will never stop until you create and support more programs like PACT.

How good are OTHER mayors?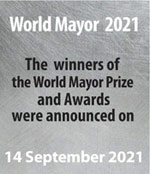 The best Mayors for Stronger | Fairer | Greener cities. Elect your candidate for the 20/21 World Mayor Prize and Honours. The Prize has been awarded since 2004