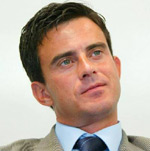 Manuel Valls, Socialist Mayor of Evry (Essonne) France




FRONT PAGE
About us




MAYORS OF THE MONTH
In 2014
Mayor of Liverpool, UK (04/2014)
Mayor of Pittsford Village, NY, USA (03/2014)
Mayor of Surabaya, Indonesia (02/2014)
Mayor of Santiago, Chile (01/2014)

In 2013
Mayor of Soda, India (12/2013)
Mayor of Zaragoza, Spain (11/2013)
Mayor of Marseille, France (10/2013)
Mayor of Schwäbisch Gmünd, Germany (09/2013)
Mayor of Detroit, USA (08/2013)
Mayor of Moore, USA (07/2013)
Mayor of Mexico City, Mexico (06/2013)
Mayor of Cape Town, South Africa (05/2013)
Mayor of Lima, Peru (04/2013)
Mayor of Salerno, Italy (03/2013)
Governor of Jakarta, Inbdonesia (02/2013)
Mayor of Rio de Janeiro, Brazil (01/2013)

In 2012
Mayor of Izmir, Turkey (12/2012)
Mayor of San Antonio, USA (11/2012)
Mayor of Thessaloniki, Greece (10/2012)
Mayor of London, UK (09/2012)
Mayor of New York, USA (08/2012)
Mayor of Bilbao, Spain (07/2012)
Mayor of Bogotá, Columbia (06/2012)
Mayor of Perth, Australia (05/2012)
Mayor of Mazatlán, Mexico (04/2012)
Mayor of Tel Aviv, Israel (03/2012)
Mayor of Surrey, Canada (02/2012)
Mayor of Osaka, Japan (01/2012)

In 2011
Mayor of Ljubljana, Slovenia (12/2011)


COUNTRY SECTIONS
Argentine Mayors
Belgian Mayors
Brazilian Mayors
British Mayors
Canadian Mayors
Chilean Mayors
Colombian Mayors
Czech Mayors
French Mayors
German Mayors
Italian Mayors
Japanese Mayors
Mexican Mayors
Spanish Mayors
US Mayors

Local government in the US




Worldwide | Elections | North America | Latin America | Europe | Asia | Africa |

























Manuel Valls:
Evry's outspoken socialist mayor
harbours higher political ambitions
By Kevin Visdeloup
21 June 2009: Manuel Valls was born in Barcelona in 1962, the son of Spanish painter Xavier Valls. He inherits his political streak from his grandfather, a Spanish republican who used to hide anarchists during the Spanish Civil War. Aged 17, Manuel Valls joined the French PS (Socialist Party) to support Michel Rocard in his attempt to become the party's candidate for the French presidency. (Rocard ultimately lost to François Mitterrand but was his Prime Minister from 1988 to 1991). Following the election of Socialist François Hollande as President in 2012, Valls entered the French government as interior minister.

Update March 2014: French President François Hollande appointed Manuel Valls Prime Minister of France

While studying history at the University of Paris, Manuel Valls committed himself to the Unef-ID (French student union), where he acted as a moderator. At the age of 24 Valls was elected to the local council of Ile-de-France and attained the position of first vice-president. Two years later, in 1988, Valls was appointed as consultant for student affairs of Prime Minister Michel Rocard until 1991. After becoming the national secretary of the Socialist Party, Valls was in charge of press and communication in the cabinet of Prime Minister Lionel Jospin from 1997 to 2002. 1997 was also the year Valls first attempted to gain a seat in the National Assembly. However, he was defeated in the first round of the election.

In 2001 Manuel Valls was elected mayor of Évry, a new town created in the 1960s to the south of Paris. One year later Valls was elected to the French National Assembly as deputy for the constituency of Essonne and re-elected in 2007. Valls was also re-elected to a second term in his office of mayor in 2008, collecting more than 70 per cent of the vote, although he was voted in by less than one-third of registered voters due to a poor turn-out.

In June 2009 Manuel Valls announced his intention to compete for the primary elections of the PS with an eye on the presidential elections in 2012. But he also created some controversy by saying on French TV that Evry could do with some more white people. Later he tried to clarify his remark by saying that he meant that communities required a certain mix of people to avoid ghettofication and segregation along racial or social lines.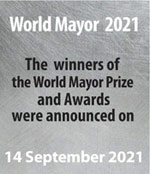 The best Mayors for Stronger | Fairer | Greener cities. Elect your candidate for the 20/21 World Mayor Prize and Honours. The Prize has been awarded since 2004