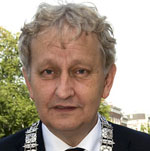 Eberhard van der Laan, Mayor of Amsterdam





FRONT PAGE
Site Search
About us | Quiénes somos |
A propos de nous | Über uns |
Mayor Monitor
Directories
Events
Debate




World Mayor
World index of mayors
Mayors from Africa
Mayors from Asia & Australia
Mayors from The Americas
Mayors from Europe
Mayors and political parties
World's largest cities
and their mayors

Mayors of the Month
Mayor of Ljubljana

Mayors from Europe
(Former mayors in italics)
| Almada | Amaroussion | Amsterdam (Cohen) | Amsterdam (van der Laan) | Antwerp | Athens | Barcelona | Berlin | Bologna | Bonn | Bremen | Chania | Cologne | Córdoba | Doncaster | Elbasan | Evry | Ghent | Gothenburg | Hamburg | Hartlepool | Kraków | La Laguna | Lewisham | Lille | London (Johnson) | London (Livingstone) | Lyon | Malmö | Middlesbrough | Montreuil-sous-Bois | Moscow | Munich | Nicosia | Nuremburg | Paris | Reims | Rhodes | Riace | Rome (Alemanno) | Rome (Veltroni) | Rouen | Sofia | Stockholm | Stuttgart | Tirana | Tower Hamlets | Turin | Ulm | Vienna | Wroclaw | Zurich (Ledergerber) | Zurich (Mauch) |




City Mayors reports news from towns and cities around the world. Worldwide | Elections | North America | Latin America | Europe | Asia | Africa | Events |




Mayors from The Americas, Europe. Asia, Australia and Africa are competing for the annual World Mayor Award. More




City Mayors ranks the world's largest as well as richest cities and urban areas. It also ranks the cities in individual countries, and provides a list of the capital cities of some 200 sovereign countries. More




City Mayors reports political events, analyses the issues and depicts the main players. More




City Mayors describes and explains the structures and workings of local government in Europe, The Americas, Asia, Australia and Africa. More




City Mayors profiles city leaders from around the world and questions them about their achievements, policies and aims. More




City Mayors deals with economic and investment issues affecting towns and cities. More




City Mayors reports on how business developments impact on cities and examines cooperation between cities and the private sector. More




City Mayors describes and explains financial issues affecting local government. More




City Mayors lists and features urban events, conferences and conventions aimed at urban decision makers and those with an interst in cities worldwide. More




City Mayors reports urban environmental developments and examines the challenges faced by cities worldwide. More




City Mayors reports on and discusses urban development issues in developed and developing countries. More



City Mayors reports on developments in urban society and behaviour and reviews relevant research. More




City Mayors deals with urban transport issues in developed and developing countries and features the world's greatest metro systems. More




City Mayors examines education issues and policies affecting children and adults in urban areas. More




City Mayors investigates health issues affecting urban areas with an emphasis on health in cities in developing countries. More




City Mayors examines the importance of urban tourism to city economies. More




City Mayors examines the contributions history and culture make to urban society and environment. More




City Mayors describes the history, architecture and politics of the greatest city halls in the world. More




City Mayors invites readers to write short stories about people in cities around the world. More




City Mayors questions those who govern the world's cities and talks to men and women who contribute to urban society and environment. More




City Mayors profiles national and international organisations representing cities as well as those dealing with urban issues. More




City Mayors reports on major national and international sporting events and their impact on cities. More




City Mayors lists cities and city organisations, profiles individual mayors and provides information on hundreds of urban events. More


Amsterdam Mayor Eberhard van der Laan
New laws on squatting spoil
mayor's honeymoon period
By Brian Baker, Senior Correspondent
14 November 2010: Eberhard van der Laan's 'honeymoon' period as mayor of Amsterdam was fairly brief. In the autumn of 2010, three months after he took office, the evictions of residents from 300 squatted homes became the major news story in the city. Mayor van der Leen and the mayors of the Netherlands other big cities initially resisted implementation of the new legislation, which criminalised squatting. However, Amsterdam Mayor Eberhard van der Laan said police would clear groups of buildings when possible, but the number of evictions that were to take place would depend on police capacity.

The new criminal offence came in to force on 1 October 2010, but in November a Dutch appeal court stopped the eviction of squatters from 18 properties in Amsterdam, The Hague and Leeuwarden. The court ruled that under the Netherlands' new anti-squatting legislation squatters did not have any opportunity to contest their eviction in court before it took place. As this meant police officers rather than the courts decided whether or not a property had been unlawfully entered and occupied, the new law conflicted with European Treaty on Human Rights.

There are an estimated 1,500 people in Amsterdam squatting in un-used buildings. In the 1980's there were 20,000.

Eberhard van der Laan became mayor of Amsterdam in June 2010. His last major job had been in the Dutch national government where he served as Minister of Housing, Communities and Integration between 2008 and 2010. Mayor van der Laan served as a Netherlands Labour Party member of Amsterdam City Council between 1990 and 1998. From 1993-98 he chaired the Labour Group on the Council. He has been a member of the Labour Party since 1976.

He has been a lawyer in the private sector for much of his adult life. He qualified in 1983 and established his own practice in 1992 when he was 36. Kennedy Van der Laan grew to become a medium sized practice based in Den Haag. Eberhard van der Laan left the firm when he became a government minister.

When he began his term he said he would continue his practice as a government minister of visiting stressed districts and speaking with the people there. He said some people had been left behind despite Amsterdam's recent prosperity.

Mayor van der Leen said he would try to keep the balance between security and freedom. "Violence is unacceptable and we have to fight it with the tools we have got. Amsterdammers themselves should also intervene when they see others fall victim to harassment."

Amsterdam has been labelled an arrogant city at times and the new mayor has said that improving this image was an important task.

Prior to becoming a government minister Eberhard van der Laan was a board member of several organisations including the Dutch Resistance Museum, a children's circus and a weekly magazine – De Groene Amsterdammer.

His approach to the high profile sensitive job as Minister of Integration, which he took on in November 2008 was to be welcoming to new residents and to the need for newcomers to have access to support and services but to also insist on their integrating into Dutch society and obeying its laws. Now, as mayor he emphasises that Amsterdam has always been a city of people from many nationalities but he urges all those living there to learn to speak Dutch.

Eberhard Edzard van der Laan was born in Leiden in the Netherlands in 1955 and studied law at Vrije Universiteit. He is married and has five children.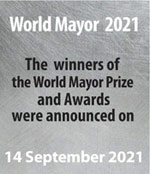 The best Mayors for Stronger | Fairer | Greener cities. Elect your candidate for the 20/21 World Mayor Prize and Honours. The Prize has been awarded since 2004