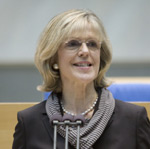 Bärbel Dieckmann, Mayor of Bonn from 1994 to 2009





FRONT PAGE
Site Search
About us | Quiénes somos |
A propos de nous | Über uns |
Mayor Monitor
Directories
Events
Debate




German local government
World Mayor
World index of mayors
Mayors from Africa
Mayors from Asia & Australia
Mayors from The Americas
Mayors from Europe
Mayors and political parties
World's largest cities
and their mayors

Mayors of the Month
Mayor of Ljubljana

Mayors from Europe
(Former mayors in italics)
| Almada | Amaroussion | Amsterdam (Cohen) | Amsterdam (van der Laan) | Antwerp | Athens | Barcelona | Berlin | Bologna | Bonn | Bremen | Chania | Cologne | Córdoba | Doncaster | Elbasan | Evry | Ghent | Gothenburg | Hamburg | Hartlepool | Kraków | La Laguna | Lewisham | Lille | London (Johnson) | London (Livingstone) | Lyon | Malmö | Middlesbrough | Montreuil-sous-Bois | Moscow | Munich | Nicosia | Nuremburg | Paris | Reims | Rhodes | Riace | Rome (Alemanno) | Rome (Veltroni) | Rouen | Sofia | Stockholm | Stuttgart | Tirana | Tower Hamlets | Turin | Ulm | Vienna | Wroclaw | Zurich (Ledergerber) | Zurich (Mauch) |




City Mayors reports news from towns and cities around the world. Worldwide | Elections | North America | Latin America | Europe | Asia | Africa | Events |




Mayors from The Americas, Europe. Asia, Australia and Africa are competing for the annual World Mayor Award. More




City Mayors ranks the world's largest as well as richest cities and urban areas. It also ranks the cities in individual countries, and provides a list of the capital cities of some 200 sovereign countries. More




City Mayors reports political events, analyses the issues and depicts the main players. More




City Mayors describes and explains the structures and workings of local government in Europe, The Americas, Asia, Australia and Africa. More




City Mayors profiles city leaders from around the world and questions them about their achievements, policies and aims. More




City Mayors deals with economic and investment issues affecting towns and cities. More




City Mayors reports on how business developments impact on cities and examines cooperation between cities and the private sector. More




City Mayors describes and explains financial issues affecting local government. More




City Mayors lists and features urban events, conferences and conventions aimed at urban decision makers and those with an interst in cities worldwide. More




City Mayors reports urban environmental developments and examines the challenges faced by cities worldwide. More




City Mayors reports on and discusses urban development issues in developed and developing countries. More



City Mayors reports on developments in urban society and behaviour and reviews relevant research. More




City Mayors deals with urban transport issues in developed and developing countries and features the world's greatest metro systems. More




City Mayors examines education issues and policies affecting children and adults in urban areas. More




City Mayors investigates health issues affecting urban areas with an emphasis on health in cities in developing countries. More




City Mayors examines the importance of urban tourism to city economies. More




City Mayors examines the contributions history and culture make to urban society and environment. More




City Mayors describes the history, architecture and politics of the greatest city halls in the world. More




City Mayors invites readers to write short stories about people in cities around the world. More




City Mayors questions those who govern the world's cities and talks to men and women who contribute to urban society and environment. More




City Mayors profiles national and international organisations representing cities as well as those dealing with urban issues. More




City Mayors reports on major national and international sporting events and their impact on cities. More




City Mayors lists cities and city organisations, profiles individual mayors and provides information on hundreds of urban events. More


Bärbel Dieckmann
Bonn mayor retires, leaving
behind a rejuvenated city
By Brian Baker, Senior Correspondent
26 June 2009: Bonn Mayor Bärbel Dieckmann, who has announced her retirement, has been one of Germany's best known mayors. Internationally, she has made a name for herself as a vigorous environmental campaigner, while at home she has lead Bonn's transition from host to West Germany's government and parliament to becoming the United Nation's German base. In an interview with City Mayors, she advises other city leaders to plan long-term and explain their decisions to the people. "A mayor's overall strategy must be recognisable and answer the questions What is best for my city and how can our citizens and administration join forces and combine their resources?" she explained.

Bärbel Dieckmann has been the mayor of Bonn, Germany, since 1994. The former teacher has been re-elected twice and has been one of the most internationally active mayors in Europe during the last 15 years. She was the first woman and the first member of the SPD to lead the city. Earlier this year she announced that she would step down in September, at the end of her present term.

Mayor Dieckmann has cited leading a successful transition for the city and its people from its previous role as parliamentary capital, securing Bonn as the base in Germany for the United Nations and investing in the city's education service as her key priorities and achievements. The United Nations are now occupying all of the former federal parliament buildings in Bonn and the city is expanding the campus by building a Conference Center extension linking the historic former water tower with the major 1980's parliamentary buildings.

Mayor Dieckmann says "The World Conference Center Bonn is our biggest construction project and is a very important part in shaping Bonn's role and image. The new annex completed in 2010 will offer conference facilities for up to 5000 people and accommodate the largest of UN conferences."

She is Chair of the World Mayors Council on Climate Change which was founded in 2006 and has been one of the leading players in the Local Action on Bio-Diversity initiative co-ordinated by ICLEI - Local Governments for Sustainability. In 2005 she was short-listed for the World Mayor of the year award.

Bärbel Dieckmann read a statement from a conference of mayors from around the world to the Government Ministers session at the 2008 Conference of the Parties to the UN Convention on Biological Diversity. She had invited 150 mayors to Bonn to discuss initiatives at local level to protect biological diversity.

She says "the first phase of the Local Action on Bio-Diversity process is now drawing to a close. Here in Bonn, we are adopting a resolution on a far-reaching biodiversity plan of action. But if you ask me, we, by which l mean cities everywhere, are not doing enough. Issues linked to biodiversity and climate change belong at the top of every city agenda. The current recession should be seen as a chance to structure stimulus packages to foster implementation of projects in these very sectors."

At the UN Climate Change conference in Bali in late 2007 Mayor Dieckmann said " our children and future generations will judge all levels of government on how we have tackled this global challenge."

She said then that multilateral mechanisms for global climate protection would only be effective with the engagement of local governments.

In mid 2009 she told City Mayors that "investing in the education of our children is an investment in the city's future. In the coming decades, we need to ensure that Bonn grows, that the people of Bonn receive the best possible education and training and that they make use of their opportunities so that Bonn based industry can attract, recruit and retain qualified workers. With this approach l believe that the future of Bonn is bright."

In Bonn, all primary schools now open all day and provide after hours care and activity for pupils. All children have a nursery education place from the third birthday and for under three's the city currently provides 1100 creche places and there are another 890 places in company run and private sector nurseries.

" All this goes a long way to ensuring that in Bonn family and work commitments need not come into conflict and makes the city attractive as a family friendly prospective employment location."

Dieckmann has ordered that the 47 million euros earmarked for the city from the Federal Government economic stimulus funds in 2009 and 2010 should be invested in sustainable projects, which save energy, have long-term use and ease the budget burden. Mechanisms for tendering for these, which will pen them up to local small businesses are being created.

Since joining the SPD in 1972 Bärbel Dieckmann has served at local, regional and national level within the party structures. Since November 2005 she has been one of the SPD's three deputy chairpersons. She has been a member of the party's national executive committee since 2001. In 2005 Mayor Dieckmann was short-listed for the World Mayor Prize.

Bärbel Dieckmann was born in Leverkusen in 1949. She worked as a teacher in the school system in Bonn for 20 years latterly as a director of studies before winning the mayoralty in 1994. She has four children.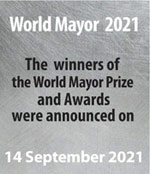 The best Mayors for Stronger | Fairer | Greener cities. Elect your candidate for the 20/21 World Mayor Prize and Honours. The Prize has been awarded since 2004