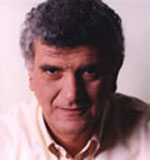 George Giannopoulos, former Mayor of Rhodes




FRONT PAGE
SiteSearch
About us
Directories


World Mayor
World index of mayors
Mayors from Africa
Mayors from Asia & Australia
Mayors from The Americas
Mayors from Europe
Mayors and political parties
World's largest cities
and their mayors

Mayors of the Month
Mayor of Ljubljana

Mayors from Europe
(Former mayors in italics)
| Almada | Amaroussion | Amsterdam (Cohen) | Amsterdam (van der Laan) | Antwerp | Athens | Barcelona | Berlin | Bologna | Bonn | Bremen | Chania | Cologne | Córdoba | Doncaster | Elbasan | Evry | Ghent | Gothenburg | Hamburg | Hartlepool | Kraków | La Laguna | Lewisham | Lille | London (Johnson) | London (Livingstone) | Lyon | Malmö | Middlesbrough | Montreuil-sous-Bois | Moscow | Munich | Nicosia | Nuremburg | Paris | Reims | Rhodes | Riace | Rome (Alemanno) | Rome (Veltroni) | Rouen | Sofia | Stockholm | Stuttgart | Tirana | Tower Hamlets | Turin | Ulm | Vienna | Wroclaw | Zurich (Ledergerber) | Zurich (Mauch) |




City Mayors reports news from towns and cities around the world. Worldwide | Elections | North America | Latin America | Europe | Asia | Africa | Events |




Mayors from The Americas, Europe. Asia, Australia and Africa are competing for the annual World Mayor Award. More




City Mayors ranks the world's largest as well as richest cities and urban areas. It also ranks the cities in individual countries, and provides a list of the capital cities of some 200 sovereign countries. More




City Mayors reports political events, analyses the issues and depicts the main players. More




City Mayors describes and explains the structures and workings of local government in Europe, The Americas, Asia, Australia and Africa. More




City Mayors profiles city leaders from around the world and questions them about their achievements, policies and aims. More




City Mayors deals with economic and investment issues affecting towns and cities. More




City Mayors reports on how business developments impact on cities and examines cooperation between cities and the private sector. More




City Mayors describes and explains financial issues affecting local government. More




City Mayors lists and features urban events, conferences and conventions aimed at urban decision makers and those with an interst in cities worldwide. More




City Mayors reports urban environmental developments and examines the challenges faced by cities worldwide. More




City Mayors reports on and discusses urban development issues in developed and developing countries. More



City Mayors reports on developments in urban society and behaviour and reviews relevant research. More




City Mayors deals with urban transport issues in developed and developing countries and features the world's greatest metro systems. More




City Mayors examines education issues and policies affecting children and adults in urban areas. More




City Mayors investigates health issues affecting urban areas with an emphasis on health in cities in developing countries. More




City Mayors examines the importance of urban tourism to city economies. More




City Mayors examines the contributions history and culture make to urban society and environment. More




City Mayors describes the history, architecture and politics of the greatest city halls in the world. More




City Mayors invites readers to write short stories about people in cities around the world. More




City Mayors questions those who govern the world's cities and talks to men and women who contribute to urban society and environment. More




City Mayors profiles national and international organisations representing cities as well as those dealing with urban issues. More




City Mayors reports on major national and international sporting events and their impact on cities. More




City Mayors lists cities and city organisations, profiles individual mayors and provides information on hundreds of urban events. More


George Giannopoulos
former mayor of Rhodes
By Sophie Ziogou
24 April 2005: George Giannopoulos, former Mayor of Rhodes, was born on 5 December 1954. He studied architecture in the Metsovo Technical University of Athens, and since 1978 he has been working as an architect and town planner. He is currently serving a second term as the city's Mayor. He was first elected in October, 1994, and re-elected in October, 1998.

Update: Hatzis N. Hatziefthimiou replaced George Giannopoulos in 2006

His first contact with local governance and politics in general began in 1977. At that time he became a board member of the Association of Architects and Engineers of the Dodecanese District. Two years later he was made president of the association, remaining in that post until 1981. In Greece a year later the PASOK political party (Hellenic Socialistic Movement) was elected, and formed the government.

An active member of that party, Mr Giannopoulos was 'located' as the Prefectural Councillor of the Karpathos and Kassos Province (1983-1985) until he 'moved' to Rhodes to become Prefectural Councillor of that province. He remained in that position until 1991. Between 1983 and 1994 he was elected first secretary of the board of the South Dodecanese Local Chapter of Pasok.

Thus was his time occupied within local government in Greece, but being a politically active representative of the local authorities he decided, in 1994, to become active abroad. So in that year he became a member of CEMR'S Policy Committee, serving until 1998. In that year he was re-elected for a second term as president of the Union of Local Authorities of the Dodecanese District, board member of the National Union of Local Authorities of Greece and a member of the Executive Committee of the Union. In early 2000 he became a member of CEMR'S Executive Bureau, and a year later a founding member and chairman of the Board of the Council of Greek Island Municipalities.

Last, but not least, Mr Giannopoulos was elected in 2001 to the position of vice president of CEMR. Five months ago he was elected to the board of that association, representing the Greek voice of local authorities in the United Europe.

His duties as Mayor have not prevented him from showing a lively interest in what is required to promote a vital part of the local economy - tourism. He is president of the organisation promoting and advancing tourism in Rhodes. He is also president of the Board of the Public Water Disposal Company of the island and a board member of the Intermunicipal Company of Tourism and Construction of Rhodes. These positions have combined to afford him every opportunity to fight for the interests of the economically underdeveloped Greek islands – opportunities that he has used and continues to use.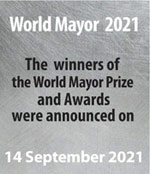 The best Mayors for Stronger | Fairer | Greener cities. Elect your candidate for the 20/21 World Mayor Prize and Honours. The Prize has been awarded since 2004