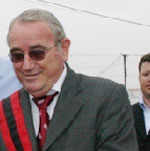 Qazim Sejdini, Mayor of Elbasan, Albania





FRONT PAGE
Site Search
About us | Quiénes somos |
A propos de nous | Über uns |
Mayor Monitor
Directories
Events
Debate




World Mayor
World index of mayors
Mayors from Africa
Mayors from Asia & Australia
Mayors from The Americas
Mayors from Europe
Mayors and political parties
World's largest cities
and their mayors 2010

Mayors from Europe
(Former mayors in italics)
| Almada | Amaroussion | Amsterdam (Cohen) | Amsterdam (van der Laan) | Antwerp | Athens | Barcelona | Berlin | Bologna | Bonn | Bremen | Chania | Cologne | Córdoba | Doncaster | Elbasan | Evry | Ghent | Gothenburg | Hamburg | Hartlepool | Kraków | La Laguna | Lewisham | Lille | London (Johnson) | London (Livingstone) | Lyon | Malmö | Middlesbrough | Montreuil-sous-Bois | Moscow | Munich | Nicosia | Nuremburg | Paris | Reims | Rhodes | Riace | Rome (Alemanno) | Rome (Veltroni) | Rouen | Sofia | Stockholm | Stuttgart | Tirana | Tower Hamlets | Turin | Ulm | Vienna | Wroclaw | Zurich (Ledergerber) | Zurich (Mauch) |




City Mayors reports news from towns and cities around the world. Worldwide | Elections | North America | Latin America | Europe | Asia | Africa | Events |




Mayors from The Americas, Europe. Asia, Australia and Africa are competing for the annual World Mayor Award. More




City Mayors ranks the world's largest as well as richest cities and urban areas. It also ranks the cities in individual countries, and provides a list of the capital cities of some 200 sovereign countries. More




City Mayors reports political events, analyses the issues and depicts the main players. More




City Mayors describes and explains the structures and workings of local government in Europe, The Americas, Asia, Australia and Africa. More




City Mayors profiles city leaders from around the world and questions them about their achievements, policies and aims. More




City Mayors deals with economic and investment issues affecting towns and cities. More




City Mayors reports on how business developments impact on cities and examines cooperation between cities and the private sector. More




City Mayors describes and explains financial issues affecting local government. More




City Mayors lists and features urban events, conferences and conventions aimed at urban decision makers and those with an interst in cities worldwide. More




City Mayors reports urban environmental developments and examines the challenges faced by cities worldwide. More




City Mayors reports on and discusses urban development issues in developed and developing countries. More



City Mayors reports on developments in urban society and behaviour and reviews relevant research. More




City Mayors deals with urban transport issues in developed and developing countries and features the world's greatest metro systems. More




City Mayors examines education issues and policies affecting children and adults in urban areas. More




City Mayors investigates health issues affecting urban areas with an emphasis on health in cities in developing countries. More




City Mayors examines the importance of urban tourism to city economies. More




City Mayors examines the contributions history and culture make to urban society and environment. More




City Mayors describes the history, architecture and politics of the greatest city halls in the world. More




City Mayors invites readers to write short stories about people in cities around the world. More




City Mayors questions those who govern the world's cities and talks to men and women who contribute to urban society and environment. More




City Mayors profiles national and international organisations representing cities as well as those dealing with urban issues. More




City Mayors reports on major national and international sporting events and their impact on cities. More




City Mayors lists cities and city organisations, profiles individual mayors and provides information on hundreds of urban events. More


City of Elbasan sheds
'ghost of communism'
By Kristine Jennings
14 November 2010: The city of Elbasan (population 126,700) in central Albania is shrugging off the 'ghost of communism' with its novel policy of community participation in budgetary development. Mayor Qazim Sejdini, sworn into office in May 2007, said that citizens who had previously been suppressed by the 'ghost of communism have now been given a voice'. This involves regular meetings held in 23 different neighbourhoods where people of all types have a say in how money is spent – the first time this has happened in Albania. Often there is standing room only at these meetings.

The objectives of the budgetary process are to improve the administration of public funds and to enhance transparency between local government and community. All citizens are encouraged to attend the meetings, to comment on the performance of the municipal government over the previous year, to discuss various issues - and to question the mayor. The people then vote on local priorities. In 2008 investments in Elbasan decided upon by the people totalled 625,000 euros. A further $664,500 euros was invested by popular vote in 2009.

The municipality is actively working on a 10-year strategic plan for the city. Changes and improvements will be sought in clean water supply, electricity provision, sanitation, waste management, telecommunications, social services, urban transport, shopping areas, housing, urban planning, business development, sport and culture, area investments, education, and the environment.

Future proposals include improving roads surrounding the city to meet European standards, which include putting new life into the historic Via Egnatia road running through the town centre (a 1.5m Euro investment to be funded by the EU), heating systems in schools, city-wide security cameras to protect transport, cameras outside all schools, and the installation of energy-efficient lighting.

Elbasan has a population of 126,700. The mayor boasts that changes over the past three years are evident. He declared: "The intention is to continue to modernise the city and to build an economy capable of attracting domestic and international investment. To this end the focus is on infrastructure investment, economic and business development - especially small business growth. The number of registered businesses has increased by 16 per cent."

In 2007 the city launched its 'Social Plan', revising it in 2009. Tangible outcomes include a total of 96 new houses for the poor (achieved with the help of the European Commission), a new retirement home, a new kindergarten for Roma children, and a public attorney to help and advise people on legal matters. Education has also been a main focus of investment. Courses for professional development have been made available at an educational centre financed by the municipality. Internet access has been provided in all schools, and the building fabric properly maintained. All kindergartens and nursery schools have been equipped with heating systems.

Elbasan is also striving to improve its tourist industry. In 2009 it received a tourism award at the Swiss International Holiday Exhibition in recognition of its promotional efforts and achievements. New cultural destinations include a new art gallery inside the walls of the historic castle and the archaeological discovery of a mosaic of international interest

Mr. Sejdini, who seeks a second term at the elections next March, points to the concrete achievements of his municipality that could 'pave the way for Albania's EU membership'.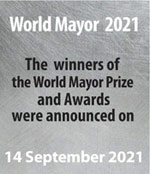 The best Mayors for Stronger | Fairer | Greener cities. Elect your candidate for the 20/21 World Mayor Prize and Honours. The Prize has been awarded since 2004