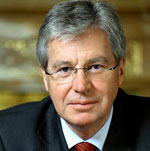 Jens Böhrnsen, former Mayor of Bremen





FRONT PAGE
Site Search
About us | Quiénes somos |
A propos de nous | Über uns |
Mayor Monitor
Directories
Events
Debate




World Mayor
German Mayors
World index of mayors
Mayors from Africa
Mayors from Asia & Australia
Mayors from The Americas
Mayors from Europe
Mayors and political parties
World's largest cities
and their mayors

Mayors of the Month
Mayor of Ljubljana

Mayors from Europe
(Former mayors in italics)
| Almada | Amaroussion | Amsterdam (Cohen) | Amsterdam (van der Laan) | Antwerp | Athens | Barcelona | Berlin | Bologna | Bonn | Bremen | Chania | Cologne | Córdoba | Doncaster | Elbasan | Evry | Ghent | Gothenburg | Hamburg | Hartlepool | Kraków | La Laguna | Lewisham | Lille | London (Johnson) | London (Livingstone) | Lyon | Malmö | Middlesbrough | Montreuil-sous-Bois | Moscow | Munich | Nicosia | Nuremburg | Paris | Reims | Rhodes | Riace | Rome (Alemanno) | Rome (Veltroni) | Rouen | Sofia | Stockholm | Stuttgart | Tirana | Tower Hamlets | Turin | Ulm | Vienna | Wroclaw | Zurich (Ledergerber) | Zurich (Mauch) |




City Mayors reports news from towns and cities around the world. Worldwide | Elections | North America | Latin America | Europe | Asia | Africa | Events |




Mayors from The Americas, Europe. Asia, Australia and Africa are competing for the annual World Mayor Award. More




City Mayors ranks the world's largest as well as richest cities and urban areas. It also ranks the cities in individual countries, and provides a list of the capital cities of some 200 sovereign countries. More




City Mayors reports political events, analyses the issues and depicts the main players. More




City Mayors describes and explains the structures and workings of local government in Europe, The Americas, Asia, Australia and Africa. More




City Mayors profiles city leaders from around the world and questions them about their achievements, policies and aims. More




City Mayors deals with economic and investment issues affecting towns and cities. More




City Mayors reports on how business developments impact on cities and examines cooperation between cities and the private sector. More




City Mayors describes and explains financial issues affecting local government. More




City Mayors lists and features urban events, conferences and conventions aimed at urban decision makers and those with an interst in cities worldwide. More




City Mayors reports urban environmental developments and examines the challenges faced by cities worldwide. More




City Mayors reports on and discusses urban development issues in developed and developing countries. More



City Mayors reports on developments in urban society and behaviour and reviews relevant research. More




City Mayors deals with urban transport issues in developed and developing countries and features the world's greatest metro systems. More




City Mayors examines education issues and policies affecting children and adults in urban areas. More




City Mayors investigates health issues affecting urban areas with an emphasis on health in cities in developing countries. More




City Mayors examines the importance of urban tourism to city economies. More




City Mayors examines the contributions history and culture make to urban society and environment. More




City Mayors describes the history, architecture and politics of the greatest city halls in the world. More




City Mayors invites readers to write short stories about people in cities around the world. More




City Mayors questions those who govern the world's cities and talks to men and women who contribute to urban society and environment. More




City Mayors profiles national and international organisations representing cities as well as those dealing with urban issues. More




City Mayors reports on major national and international sporting events and their impact on cities. More




City Mayors lists cities and city organisations, profiles individual mayors and provides information on hundreds of urban events. More


Jens Böhrnsen
former Mayor of Bremen, Germany
1 April 2008: Born in Bremen in 1949, Jens Böhrnsen is mayor of the city and state of Bremen for the Social Democrats (SPD). Böhrnsen studied at the Gymnasium Waller Ring, graduating in 1968. He joined the SPD in 1967 and the Union of the Service Industries (ver.di ) in 1969. He attended the University of Kiel where he took law, first undertaking the state bar exam in 1973 before being admitted to the bar in 1977 on his second examination. The mayor was shortlisted for the 2008 World Mayor Prize.

Böhrnsen entered the civil service in 1974 and became a member of the civil service for the state of Bremen in 1977. In 1978 he became Probationary judge at the Administrative Court of Bremen, before obtaining full tenure as a judge in 1980. He became Chief Judge in 1991. Böhrnsen then left the administration to serve as an SPD Bremen state parliamentarian in 1995, becoming head of the Bremen state SPD in 1999. Following the resignation of Henning Scherf as SPD mayor in 2005, Böhrnsen was selected as the party's standard-bearer for Mayor and President of the Senate of the Free Hanseatic City of Bremen.

After the 2007 state elections, Böhrnsen discontinued the SPD's local Grand Coalition with the Christian Democrats (CDU) and instead opted to enter government with the Greens, not least as he had previously been bound by a 2003 election pact instigated by his predecessor, citing the electorate's emphatic rejection of the CDU candidate for mayor Thomas Röwekamp as grounds to do so. At the time the disenchantment with both main parties and the support picked up by the minor parties was thought to have national significance for the federal Grand Coalition but this suggestion was rejected by Chancellor Angela Merkel.

As a state-level city state within the German federal constitution (owing to the peculariarities of German nation-building during the 19th century), Bremen is both a city and a state. As such, the president of the state senate acts as mayor for the city of Bremen (but not Bremerhaven, the other city in the state). Böhrnsen has been particularly active in recent debates about federalism in Germany, not least over proposals to merge the states of Bremen and Lower Saxony in the name of efficiency.

Böhrnsen is married with two grown up sons.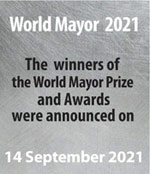 The best Mayors for Stronger | Fairer | Greener cities. Elect your candidate for the 20/21 World Mayor Prize and Honours. The Prize has been awarded since 2004