Patrick Janssens, Mayor of Antwerp





FRONT PAGE
Site Search
About us | Quiénes somos |
A propos de nous | Über uns |
Mayor Monitor
Directories
Events
Debate




Belgian Mayors
World Mayor
World index of mayors
Mayors from Africa
Mayors from Asia & Australia
Mayors from The Americas
Mayors from Europe
Mayors and political parties
World's largest cities
and their mayors

Mayors of the Month
Mayor of Ljubljana

Mayors from Europe
(Former mayors in italics)
| Almada | Amaroussion | Amsterdam (Cohen) | Amsterdam (van der Laan) | Antwerp | Athens | Barcelona | Berlin | Bologna | Bonn | Bremen | Chania | Cologne | Córdoba | Doncaster | Elbasan | Evry | Ghent | Gothenburg | Hamburg | Hartlepool | Kraków | La Laguna | Lewisham | Lille | London (Johnson) | London (Livingstone) | Lyon | Malmö | Middlesbrough | Montreuil-sous-Bois | Moscow | Munich | Nicosia | Nuremburg | Paris | Reims | Rhodes | Riace | Rome (Alemanno) | Rome (Veltroni) | Rouen | Sofia | Stockholm | Stuttgart | Tirana | Tower Hamlets | Turin | Ulm | Vienna | Wroclaw | Zurich (Ledergerber) | Zurich (Mauch) |




City Mayors reports news from towns and cities around the world. Worldwide | Elections | North America | Latin America | Europe | Asia | Africa | Events |




Mayors from The Americas, Europe. Asia, Australia and Africa are competing for the annual World Mayor Award. More




City Mayors ranks the world's largest as well as richest cities and urban areas. It also ranks the cities in individual countries, and provides a list of the capital cities of some 200 sovereign countries. More




City Mayors reports political events, analyses the issues and depicts the main players. More




City Mayors describes and explains the structures and workings of local government in Europe, The Americas, Asia, Australia and Africa. More




City Mayors profiles city leaders from around the world and questions them about their achievements, policies and aims. More




City Mayors deals with economic and investment issues affecting towns and cities. More




City Mayors reports on how business developments impact on cities and examines cooperation between cities and the private sector. More




City Mayors describes and explains financial issues affecting local government. More




City Mayors lists and features urban events, conferences and conventions aimed at urban decision makers and those with an interst in cities worldwide. More




City Mayors reports urban environmental developments and examines the challenges faced by cities worldwide. More




City Mayors reports on and discusses urban development issues in developed and developing countries. More



City Mayors reports on developments in urban society and behaviour and reviews relevant research. More




City Mayors deals with urban transport issues in developed and developing countries and features the world's greatest metro systems. More




City Mayors examines education issues and policies affecting children and adults in urban areas. More




City Mayors investigates health issues affecting urban areas with an emphasis on health in cities in developing countries. More




City Mayors examines the importance of urban tourism to city economies. More




City Mayors examines the contributions history and culture make to urban society and environment. More




City Mayors describes the history, architecture and politics of the greatest city halls in the world. More




City Mayors invites readers to write short stories about people in cities around the world. More




City Mayors questions those who govern the world's cities and talks to men and women who contribute to urban society and environment. More




City Mayors profiles national and international organisations representing cities as well as those dealing with urban issues. More




City Mayors reports on major national and international sporting events and their impact on cities. More




City Mayors lists cities and city organisations, profiles individual mayors and provides information on hundreds of urban events. More


Patrick Janssens
Mayor of Antwerp, Belgium
By Brian Baker and Andrew Stevens

2 May 2008: Born in 1956 Patrick Janssens has been mayor of the Belgian port city of Antwerp since 2003. He initially became mayor in unusual circumstances. When he took the helm the city was in a serious crisis. The entire council, including the previous mayor, resigned in 2003 following a financial corruption scandal involving the use of city council credit cards for personal transactions. The mayor has been shortlisted for the 2008 World Mayor Award.

In 2006 he retained the mayoralty in a contested election in which his party, the Flemish Socialists, SP.A , obtained 36 per cent of the vote and he also secured the support of the Flemish Christian Democrats and Liberals to continue as mayor. His current term runs until 2012.

Janssens is a graduate of political science and economic sciences from the University of Antwerp, as well as statistics from the London School of Economics. He was an assistant at the university between 1975 and 1985. The mayor has been shortlisted for the 2008 World Mayor Award.

Patrick Janssens says he stood for re-election in 2006 because he felt that in his first three years he and his team had not achieved their goals. During this period he thinks his main successes were in bringing stability to the city administration, beginning the process of regaining the trust of the people of Antwerp and setting clear goals for city development, integrity and sports.

His principal objectives are now all focused on the work of preparing the city for a challenging future. " We have to think about social care, housing, education and leisure facilities with a evolving demographic which includes both higher birth rates and higher numbers of elderly people," he says.

Professionally, his background is in market research. He headed his own agency, Dimarso, between 1985 - 1989 and worked at the VVL/BBDO company from 1989 - 1999. That year, he surprised many when he was appointed president of the Socialist Party, a position he held until 2003.

Janssens also briefly held national office in 2003-4 having been elected to the lower house of the Federal Parliament but quit in 2004 when he was elected to the Flemish Parliament.

He says that the turbulence at the national level in Belgian politics is significant for Antwerp but not to a massive extent. He adds that the Flemish Government is responsible for and focused on most of the key issues for the city including urban development, social care and housing. But he recognises the split between national and local police services is a troubling one for Antwerp. Overall, though, says Patrick Janssens, " to have a true Federal Government with an outlined programme is very important for Antwerp's future."

With his background in advertising, Janssens has good links with Antwerp's successful and burgeoning creative sector. " I cherish the cultural and creative capital of the city. Whether it is design, fashion, theatre, musea, music… the creative capital of the city creates a dynamic urban environment. The software component of our city nourishes the economy, education and tourism."

Mayor Janssens is determined to drive forward the major infrastructure projects which will be necessary over the next 15 years to provide the accessibility necessary to maintain Antwerp's position as a port and as an international city. Several are currently being planned and executed.

His years as mayor have not been entirely without controversy. In 2007 the city council resolved to ban the wearing of religious symbols by staff employed in jobs dealing regularly with the public.

Following protests by Muslim organisations Janssens and the administration surprised many by standing firm. Staff who were affected had a choice of removing their veil or other symbols while at work or being redeployed in back office functions.

Despite the furore, Janssens says that the profile of the city workforce has actually become much more diverse during his watch.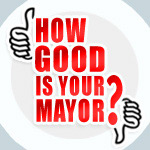 Mayor Monitor allows you to rate the performance of your mayor More


How good is
your mayor?
City Mayors provides Mayor Monitor (MM) to allow residents and non-residents to rate the performance of mayors from across the world as well as highlight their 'best' and 'worst' decisions. Mayor Monitor uses the widely understood one-to-ten rating system, where '1' signifies an extremely poor performance and '10' 'an outstanding one. In addition to rating mayors' performances, citizens are invited to highlight the best and worst decisions by city leaders.

Over time, Mayor Monitor will provide a valuable track record of mayors' successes and failures as well as their popularity among residents and a wider public. The results will be published on the City Mayors website and updated monthly.

Please rate your mayor now.

The ratings will become a contributory factor of World Mayor 2010.