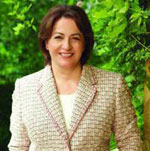 Eleni Mavrou, Nicosia's first female mayor




FRONT PAGE
SiteSearch
About us
Directories


FRONT PAGE
Site Search
About us | Quiénes somos |
A propos de nous | Über uns |
Mayor Monitor
Directories
Events
Debate




World Mayor
World index of mayors
Mayors from Africa
Mayors from Asia & Australia
Mayors from The Americas
Mayors from Europe
Mayors and political parties
World's largest cities
and their mayors

Mayors of the Month
Mayor of Ljubljana

Mayors from Europe
(Former mayors in italics)
| Almada | Amaroussion | Amsterdam (Cohen) | Amsterdam (van der Laan) | Antwerp | Athens | Barcelona | Berlin | Bologna | Bonn | Bremen | Chania | Cologne | Córdoba | Doncaster | Elbasan | Evry | Ghent | Gothenburg | Hamburg | Hartlepool | Kraków | La Laguna | Lewisham | Lille | London (Johnson) | London (Livingstone) | Lyon | Malmö | Middlesbrough | Montreuil-sous-Bois | Moscow | Munich | Nicosia | Nuremburg | Paris | Reims | Rhodes | Riace | Rome (Alemanno) | Rome (Veltroni) | Rouen | Sofia | Stockholm | Stuttgart | Tirana | Tower Hamlets | Turin | Ulm | Vienna | Wroclaw | Zurich (Ledergerber) | Zurich (Mauch) |




City Mayors reports news from towns and cities around the world. Worldwide | Elections | North America | Latin America | Europe | Asia | Africa | Events |




Mayors from The Americas, Europe. Asia, Australia and Africa are competing for the annual World Mayor Award. More




City Mayors ranks the world's largest as well as richest cities and urban areas. It also ranks the cities in individual countries, and provides a list of the capital cities of some 200 sovereign countries. More




City Mayors reports political events, analyses the issues and depicts the main players. More




City Mayors describes and explains the structures and workings of local government in Europe, The Americas, Asia, Australia and Africa. More




City Mayors profiles city leaders from around the world and questions them about their achievements, policies and aims. More




City Mayors deals with economic and investment issues affecting towns and cities. More




City Mayors reports on how business developments impact on cities and examines cooperation between cities and the private sector. More




City Mayors describes and explains financial issues affecting local government. More




City Mayors lists and features urban events, conferences and conventions aimed at urban decision makers and those with an interst in cities worldwide. More




City Mayors reports urban environmental developments and examines the challenges faced by cities worldwide. More




City Mayors reports on and discusses urban development issues in developed and developing countries. More



City Mayors reports on developments in urban society and behaviour and reviews relevant research. More




City Mayors deals with urban transport issues in developed and developing countries and features the world's greatest metro systems. More




City Mayors examines education issues and policies affecting children and adults in urban areas. More




City Mayors investigates health issues affecting urban areas with an emphasis on health in cities in developing countries. More




City Mayors examines the importance of urban tourism to city economies. More




City Mayors examines the contributions history and culture make to urban society and environment. More




City Mayors describes the history, architecture and politics of the greatest city halls in the world. More




City Mayors invites readers to write short stories about people in cities around the world. More




City Mayors questions those who govern the world's cities and talks to men and women who contribute to urban society and environment. More




City Mayors profiles national and international organisations representing cities as well as those dealing with urban issues. More




City Mayors reports on major national and international sporting events and their impact on cities. More




City Mayors lists cities and city organisations, profiles individual mayors and provides information on hundreds of urban events. More


Eleni Mavrou:
Nicosia's first female mayor,
a product of Cyprus' division
By Andrew Stevens
20 July 2007: The first female mayor of the Cypriot capital Nicosia, Eleni Mavrou's own life reflects the lasting politics of division on the island beset by tensions between the competing claims between its Greek and Turkish populations. Elected as mayor in 2006 following stints as a councillor and national legislator, Mavrou brings considerable international experience to her role as Nicosia's first citizen. The mayor was short-listed for the 2008 World Mayor Prize.

Update December 2011: Eline Mavrou fails in her bid for a second term. Nicosia's new mayor is Constantinos Yiorkadjis, an independent supported by a number of centre-right and right-wing parties.

Eleni Mavrou was born in 1961, in the town of Kyrenia in what is now Turkish Northern Cyprus. Following the Turkish-led invasion of 1974, Mavrou's family moved and resettled in the Cypriot capital Nicosia. The Turkish-led invasion, instigated following rumours of a military coup planned against the newly-independent Cypriot government directed by the Greek military regime in Athens, had the effect of partitioning the island into the Turkish north and Greek south, which remains in place to this day, in spite of UN-led attempts at reconciliation and power-sharing.

The Turkish Republic of Northern Cyprus is still only recognised by Turkey and has faced international condemnation for its refusal to allow Greek Cypriots to return to their properties. Both the UN and Cyprus' former colonial occupier Britain retain a military presence on the island, the latter with sovereign bases. Attempts at reunification, based around a loose confederation of the communities, stalled when Greek Cypriots voted down the UN plan by a margin of three to one on account of UN Secretary-General Kofi Annan's insertion of a provision to bar their future claims before the European Court of Human Rights and vague assurances about demilitarisation by Turkey.

Having studied civil engineering at Nicosia's technical institute, Mavrou then relocated to London to study politics and international relations at the University of London. During this time she became active in London's sizeable Greek Cypriot community and held a number of leadership positions in the student movement. Once back in Cyprus, she served on the central committee of the Workers' Progressive Party (AKEL), the former Communist Party on the island, which advocates a non-aligned and federalist Cyprus. Mavrou held responsibility for women's issues, human rights and, unsurprisingly, local government, which led to her two terms as a member of the Nicosia municipality (1986-1996). She was then elected to the unicameral Cypriot House of Representatives in 2001, becoming an observer to the European Parliament during Cyprus' final accession stages to European Union membership, and was re-elected in 2006.

The Greek Municipality of Nicosia is governed by an elected mayor and 26 councillors, one of whom serves as deputy mayor. In 2006, Mavrou contested the Nicosia mayoral election on behalf of the coalition between AKEL, the left-wing Movement for Social Democracy (EDEK) and the centrist Democratic Party (DIKO) and took office as mayor in January 2007, resigning her parliamentary seat in the process. Mayor Mavrou holds the Knight's rank of Order of Merit of France, awarded by the French government.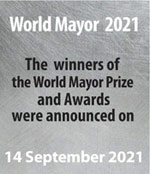 The best Mayors for Stronger | Fairer | Greener cities. Elect your candidate for the 20/21 World Mayor Prize and Honours. The Prize has been awarded since 2004