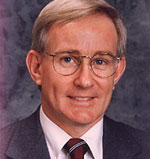 Tom Murphy, former mayor of Pittsburgh

Pittsburgh, PA
- State: Pennsylvania
- Mayor: Thomas J. Murphy
- Next election: 11/08/2005
- Website:
www.city.pittsburgh.pa.us

Mayor's Office
City-County Building
Fifth Floor, Room 536
Pittsburgh
PA 15219
USA
Tel: +1 412 255 2908
Fax: +1 412 255 2687



FRONT PAGE
SiteSearch
About us
Directories


US Mayors
US metro agenda
US cities on the internet
Urban poverty in the US
US cities in fiscal crisis

Mayors from Canada and the US
| Akron | Albuquerque | Atlanta | Baltimore | Boston | Chicago | Columbus | Dayton | Denver | Detroit | Edmonton \ Harrisburg | Honolulu | Houston | Los Angeles | Louisville | Memphis | Miami | Minneapolis | Mississauga | New Orleans | Newark | New York | Oakland | Phoenix | Philiadelphia | Pittsburgh | Pomona | Portland | Providence | Salt Lake City (Anderson) | Salt Lake City (Becker) | San Francisco | Seattle | South Bay | Southfield | Stamford | Toronto | Trenton | Tulsa | Washington DC | Winnipeg |




City Mayors reports news from towns and cities around the world. Worldwide | Elections | North America | Latin America | Europe | Asia | Africa | Events |




Mayors from The Americas, Europe. Asia, Australia and Africa are competing for the annual World Mayor Award. More




City Mayors ranks the world's largest as well as richest cities and urban areas. It also ranks the cities in individual countries, and provides a list of the capital cities of some 200 sovereign countries. More




City Mayors reports political events, analyses the issues and depicts the main players. More




City Mayors describes and explains the structures and workings of local government in Europe, The Americas, Asia, Australia and Africa. More




City Mayors profiles city leaders from around the world and questions them about their achievements, policies and aims. More




City Mayors deals with economic and investment issues affecting towns and cities. More




City Mayors reports on how business developments impact on cities and examines cooperation between cities and the private sector. More




City Mayors describes and explains financial issues affecting local government. More




City Mayors lists and features urban events, conferences and conventions aimed at urban decision makers and those with an interst in cities worldwide. More




City Mayors reports urban environmental developments and examines the challenges faced by cities worldwide. More




City Mayors reports on and discusses urban development issues in developed and developing countries. More



City Mayors reports on developments in urban society and behaviour and reviews relevant research. More




City Mayors deals with urban transport issues in developed and developing countries and features the world's greatest metro systems. More




City Mayors examines education issues and policies affecting children and adults in urban areas. More




City Mayors investigates health issues affecting urban areas with an emphasis on health in cities in developing countries. More




City Mayors examines the importance of urban tourism to city economies. More




City Mayors examines the contributions history and culture make to urban society and environment. More




City Mayors describes the history, architecture and politics of the greatest city halls in the world. More




City Mayors invites readers to write short stories about people in cities around the world. More




City Mayors questions those who govern the world's cities and talks to men and women who contribute to urban society and environment. More




City Mayors profiles national and international organisations representing cities as well as those dealing with urban issues. More




City Mayors reports on major national and international sporting events and their impact on cities. More




City Mayors lists cities and city organisations, profiles individual mayors and provides information on hundreds of urban events. More



This is an archived article, published in June 2003
Tom Murphy
Mayor of Pittsburgh
By Josh Fecht

When newly-elected city mayor Tom Murphy first took office in January 1994, Pittsburgh was suffering from one of the worst inferiority complexes in its history.

October 2007: Profile of Luke Ravenstahl - current mayor of Pittsburgh

April 2005: The Mayor will not contest the mayoral elections scheduled for 8 November 2005

The city had yet to right itself after wrenching changes in the steel industry that began in the early 1980s. City finances were in a sorry state, with a $32 million deficit, and there was no serious plan for an economic turnaround. Younger, college-educated workers were leaving in droves, and older residents were pessimistic about the region's future.

Even the physical environment reflected the economic and psychological depression running through the region. Land on both sides of the city's three rivers, the defining boundary of downtown and the international symbol of the city, was an eyesore. The riverbanks were blighted by the rusting carcasses of abandoned steel mills and businesses that discouraged pedestrian access to the rivers.

The city had such a poor reputation for offering recreational opportunities that Bicycling Magazine rated Pittsburgh as one of the worst cities in the country for bike riding in a metropolitan area.

The city was desperate for a leader who would direct a physical and psychological turnaround.

After two terms in office, the Pittsburgh that Tom Murphy inherited is a dim memory. Replacing it today is a high-energy, cosmopolitan city that glows with optimism about its future.

As mayor, Tom Murphy trimmed the city's workforce by more than 1,000, a reduction of nearly 21 per cent. He turned yearly runaway budget deficits into budget surpluses. In fact, he has just completed his third consecutive budget agreement with City Council that carries a healthy cash balance.

As an economic revitalization visionary, Murphy has directed more than $4 billion in new investment in the city -- from office towers for two of the city's nationally ranked banks to new world-class facilities for the city's professional football and baseball teams to an expanded downtown convention center.

City neighborhoods, tarnished from decades of neglect, have been refurbished through the mayor's Neighborhood Needs Program. This has included improvements to basic infrastructure like streets and sidewalks. Nearly all of the city's 169 neighborhood playgrounds have been renovated to meet or exceed today's most stringent safety standards. That effort recently won Pittsburgh an award from the Consumer Products Safety Commission, the first ever given to a public body.

As a technology booster, Murphy has made Pittsburgh a model for north-eastern cities transitioning from heavy industrial-based economies. The city is now experiencing an explosion of new economic ventures with anchors in high technology and internet-based start-up companies. Nationally known E-commerce start-ups like Freemarkets, technology heavyweights like Seagate and venture capital investors like Red Leaf have committed to Pittsburgh. The Murphy administration has also encouraged government-higher education partnerships with local universities, especially Carnegie Mellon and the University of Pittsburgh. Included in this, is the recent move by RAND, the world's best-known policy research think tank, to locate its fourth international office in Pittsburgh.

According to a recent survey by the Pittsburgh Technology Council, Pittsburgh now has more jobs available in the technology field than people to fill them. Many of the city's more traditional Fortune 500 corporations like PNC Bank and Mellon Bank have given new votes of confidence to the city, both of which are constructing new operations centers fixing more than 6,000 jobs in the heart of Downtown. The world's primary aluminum producer, Alcoa, has built its new world-headquarters on the Downtown's North Shore riverfront and Heinz Corporation has announced a multimillion dollar expansion of its manufacturing operations here. All of these were completed with incentives provided by Murphy Administration programs.

Part of what has attracted cutting-edge companies and hundreds of talented professionals to settle there in recent years is the success of the quality of life initiatives begun in Murphy's first term and now bearing fruit. The Mayor has directed the clean up and redevelopment of former industrial sites – brownfields - into some of the most pristine and exclusive residential communities in the city. He has been a leader in the national Rails-To-Trails movement, supervising the building of nearly 14 miles of trails that run through the center of the city and that connect to the riverfronts in the form of river's edge parklets and running/ biking/ in-line skating paths. Another 18 miles of trails are scheduled for completion during the next two years.

Public safety has been a top priority for Murphy since day one. He understood the need to address public safety concerns to improve the quality of life of city residents and to encourage outsiders to consider moving into the city.

This commitment has led Pittsburgh to experience its lowest levels of crime in the past 30 years. In fact, Pittsburgh's violent crime rate, as measured by the FBI, is the lowest of any city its size or larger in the country.

The son of a steelworker, Murphy was born 15 August 1944. After graduating from John Carroll University in 1967, he worked as a chemical sales representative for Alcoa. In 1970, Murphy and his wife Mona Joined the Peace Corps, working in rural Paraguay. The couple embraced the Peace Corps ethic of self-sufficiency and community building which has become a trademark of his current leadership style. In 1973, he earned a graduate degree with honors in Urban Studies from Hunter College in New York City. Upon his return to Pittsburgh, Murphy worked as a State Representative for the 20th Legislative District in Pittsburgh from 1979 until his election as Mayor. The two live in a restored 150-year-old farmhouse on Pittsburgh's North Side where they have raised two daughters Shannon and Molly, and their son, T.J.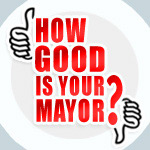 Mayor Monitor allows you to assess the performance of mayors from across the world Full list


Mayor Monitor (MM)
City Mayors introduces Mayor Monitor (MM), which allows residents and non-residents to rate the performance of mayors and highlight their 'best' and 'worst' decisions. Mayor Monitor uses the widely understood one-to-ten rating system, where '1' signifies an extremely poor performance and '10' 'an outstanding one. In addition to rating mayors' performances, citizens are invited to highlight city leaders' best and worst decisions while in office.

Over time, Mayor Monitor will provide a valuable track record of mayors' successes and failures as well as their popularity among residents and a wider public. The results will be published on the City Mayors website and updated monthly.

The MM list currently includes more than 30 mayors from The Americas, Europe, Asia and Australia Full list